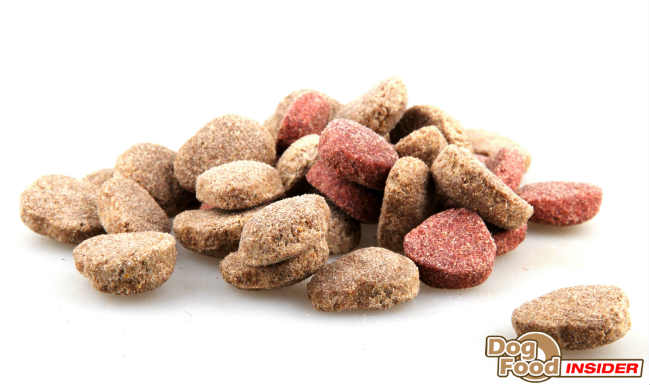 This post may contain affiliate links. We are compensated for referring customers to our affiliate partners.
Dog Food Insiders Rating
4 PAWS
---
Compare This Dog Food To The Current Highest Rated Dog Food Brands
---
Company Information
Kirkland dog food is a private label brand made for the large retailer Costco. It is manufactured by the same company that manufactures Diamond Pet Foods, owned by Schell and Kampeter, Inc. They are a U.S.-based pet food manufacturer with plants located in Meta, Missouri, Lathrop, California and Gaston, South Carolina. The company is a family-owned, privately-held enterprise, still managed by the Schell and Kampeter family.
The headquarters for Diamond are in Meta, Missouri and the company was founded in 1970. At that time brothers-in-law Gary Schell and Richard Kampeter bought Milling Meta Co., a producer of livestock feed and dog food. Early distribution was limited to within 100 miles of Meta, Missouri and only about 5 percent of the company's production was dog food. Diamond expanded its manufacturing to include plants in San Joaquin County California in 1999 and Gaston, South Carolina in 2002.
---
Compare This Dog Food To The Current Highest Rated Dog Food Brands
---
Recall History
Kirkland has a very good reputation with dog breeders and dog show exhibitors, especially in areas served by CostCo, and many people say they have been feeding the food for years with good results. However, cans of Kirkland Signature Premium were recalled in 2007 with the large pet food recalls. Kirkland was also part of a large voluntary recall by Diamond due to Salmonella in May 2012. Many dogs reportedly became sick from eating the food in 2012.
Product Overview
As with many private label brands, information about Kirkland is scarce. CostCo does not advertise the food and there is no web site with information about it which makes reviewing the food challenging.
Kirkland's foods include Kirkland Signature and Kirkland Signature Nature's Domain which is their grain-free food. Kirkland's food are designed to compete with premium dog foods at a lower cost. They contain no corn, soy, or wheat; and they have no animal digest, by-products, or artificial preservatives. These are some of the reasons they have been popular with dog breeders and exhibitors, especially people who own multiple dogs. They are able to feed what seems like a good quality food at a lower cost which is an important consideration when you have multiple dogs.
Dry Foods
Kirkland Signature Adult Dog Formula (Lamb)
Canned Foods
Kirkland Lamb and Rice Formula
Review Of Kirkland Signature Super Premium Adult Dog Lamb, Rice and Vegetable Formula
---
Ingredients in Kirkland Signature Super Premium Adult Dog Lamb, Rice and Vegetable Formula
Lamb, lamb meal, whole grain brown rice, white rice, rice bran, egg product, cracked pearled barley, chicken fat (preserved with mixed tocopherols and vitamin E), dried beet pulp, potatoes, fish meal, flaxseed, natural flavor, millet, brewers dried yeast, potassium chloride, salt, choline chloride, carrots, peas, kelp, apples, dried skim milk, cranberry powder, rosemary extract, parsley flake, dried chicory root, glucosamine hydrochloride, taurine, vitamin E supplement, iron proteinate, zinc proteinate, copper proteinate, ferrous sulfate, zinc sulfate, copper sulfate, potassium iodide, thiamine mononitrate, manganese proteinate, manganous oxide, chondroitin sulfate, ascorbic acid, vitamin A supplement, biotin, niacin, calcium pantothenate, manganese sulfate, sodium selenite, pyridoxine hydrochloride (vitamin B6), vitamin B12 supplement, riboflavin, vitamin D supplement, folic acid.
---
I've never fed any Kirkland foods (there is no CostCo near where I live), but I have heard lots of great things about them. I've always wished I could try them with my dogs. I chose the Super Premium Adult Dog Lamb, Rice and Vegetable Formula just because I found the ingredient list online and thought I could work with it (no small thing when private label foods don't provide information). My son was supposed to be taking an online drivers ed course, but instead, he started researching dog food and found this brand.
Ingredients Breakdown
The first two ingredients in the food are lamb and lamb meal– that's a good start for any food. Lots of protein from two quality sources. Lamb is the whole lamb, including moisture before cooking. Lamb meal is the dry rendered part that has been prepared to make dog food. It has even more protein than the whole lamb since it is concentrated. Very good.
The next three ingredients arewhole grain brown rice, white rice, and rice bran. Yes, these are grains but they are relatively nutritious grains, especially the whole grain brown rice. Whole grain brown rice is a complex carbohydrate which slowly breaks down when your dog digests it so it releases sugar slowly into his bloodstream. Your dog needs a combination of complex and simple sugars for different kinds of energy and whole grain brown rice is a good source of complex carbs. The white rice is less nutritious but the rice bran has some of the fiber and nutrients that are missing from the white rice. So, these three ingredients aren't too bad and the whole grain brown rice is pretty good (assuming you are not opposed to grains in general).
The food also features chicken fat (preserved with mixed tocopherols and vitamin E). This is an excellent source of fat and it's preserved with natural preservatives. Rosemary extract is also used as a preservative in the food. This is another natural preservative. It's only problematic if you have a dog with epilepsy or which has seizures for some other reason.
There are a couple of other sources of protein in the food: egg product andfish meal. Egg product is very high in protein and it should be 100 percent digestible for your dog. Fish meal is another concentrated source of protein. Diamond says that they use fish meal from sources that are ethoxyquin-free.
---
Compare This Dog Food To The Current Highest Rated Dog Food Brands
---
Additional Ingredients Of Interest
The food has some other ingredients that stand out. Flaxseed is a good source of Omega-3 and omega-6 fatty acids, though the fish meal, as an animal source, is better. It is also a natural source of vitamin K and other nutrients.Dried beet pulp is a good source of insoluble fiber. Some people are wary of this ingredient but it is frequently used in dog foods today. It helps with colon health and, contrary to what many people believe, it is not a cheap filler or sweetener. Beet pulp is what remains after the sugar has been removed from sugar beets.
The food contains a few more carb sources: cracked pearled barley, millet, and potatoes. Many people associate millet with bird seed but it's actually a good source of protein, amino acids, and fiber. Cracked pearled barley is not as nutritious as some other forms of barley that have more of the hull left, but it's still a comparatively nutritious ingredient. Potatoes are high in carbohydrates, especially starch. They have more vitamins and minerals than most people credit and they provide some fiber action.
In addition to chelated minerals which make it easier for your dog to digest them, the food still has a few more interesting ingredients. Kelp provides up to 64 trace minerals that your dog needs, including iodine. However, it's important that the kelp does not contain too much iodine. Kelp can contain varying amounts of iodine depending on where it's harvested. It's not clear if the kelp in Kirkland Signature Super Premium Adult Dog Lamb, Rice and Vegetable Formula has been tested for iodine.
Finally, the food has taurine which some dog foods are now adding for dogs' heart health. It contains glucosamine hydrochloride which is a form of glucosamine that is sometimes used instead of glucosamine sulfate. It performs the same function and is supposed to help with joint pain. It also contains chondroitin sulfate for joints. It has cranberry in powder form. Cranberries, and other berries, have been recognized as good antioxidants. And it contains dried chicory root. Chicory root is a good prebiotic to keep healthy bacteria in your dog's gastrointestinal system so he can better digest his food.
Quality Of Ingredients
There are lots of good things in Kirkland Signature Super Premium Adult Dog Lamb, Rice and Vegetable Formula and I note that the food does not contain the kind of grains that many people find objectionable such as corn, wheat, or soy. It does not contain animal digest or by-products. And it doesn't use artificial ingredients, sweeteners, or colorings. Nor does it have things like pea fiber or tomato pomace that some of the better dog foods are using today and calling "fiber."
Special Concerns
The only ingredient that really doesn't look very good is the brewers dried yeast (and the white rice). According to AAFCO, this is "the dried, non-fermentive, non-extracted yeast of botanical classification Saccharomyces resulting as a by-product from the brewing of beer and ale." In other words, it's the non-fermentive yeast that's leftover as a by-product of brewing beer or ale. It doesn't sound that great. But I did a little checking and one of my favorite foods and companies, Castor & Pollux, also adds brewers dried yeast to their foods. Here's what they say:
---
We add brewers dried yeast for its nutritional properties. The cell walls of the yeast are known to possess specialized sugars (mannans) which have been demonstrated to out-maneuver pathogenic bacteria. But that science stuff can be hard to remember, so here are some user-friendly bullet points about brewers yeast:
It's a highly digestible protein with exceptional amino acid balance.
It includes minerals and vitamins (especially B-complex).
It helps promote digestion, healthy coat, and assists with vitamin availability.
It is a natural source of biotin and folic acid
---
You can't believe all the stuff the dog food companies say, but that's an explanation for why brewers dried yeast is in there, perhaps.
Guaranteed Analysis
Crude Protein: 23.0% min
Crude Fat: 14.0% min
Crude Fiber:4.0% max
Moisture: 10.0% max
Zinc: 200 mg/kg min
Selenium: 0.4% min
Vitamin E: 150IU/kg min
Omega-6 Fatty Acids: 2.2% min
Omega-3 Fatty Acids: 0.4% min
Glucosamine Hydrochloride: 300 mg/kg min
Chondroitin Sulfate: 100 mg/kg min
Calorie Content Metabolizable Energy (ME): 373kcal/cup
AAFCO Statement
Kirkland adult dog foods claim they meet AAFCO nutrient profiles for all life stages or for adult maintenance.
Kirkland Signature Super Premium Adult Dog Lamb, Rice and Vegetable Formula provides 23 percent crude protein (Minimum), which is within the government's recommendations (18 percent for adult dogs). The 14 percent fat in Kirkland Signature Super Premium Adult Dog Lamb, Rice and Vegetable Formula is at the high end of the government's recommendations (9 to 15 percent for an adult dog), but good quality fat is good for your dog and the fat in this food comes from a named source (chicken fat).
You should notice that the food's AAFCO statement is based on a nutrient profile for the food and not on feeding trials. Both nutrient profiles and feeding trials are acceptable to AAFCO, though feeding trials (which cost a lot more to carry out) are generally considered better from a consumer's standpoint.
Company Reputation And Quality Control Issues
Kirkland has always had a good reputation until the recall in 2012 but that recall seems to have turned a lot of people against the food. The fact that this food is manufactured by Diamond, which has had ongoing problems with recalls, may give consumers cause for concern.
Bottomline
This is certainly a better than average food and I would recommend it to people who want to feed a premium food at a lower cost. However, if you feed this food you will need to stay alert to any recall notices in case there are further issues with Diamond.
Kirkland Dog Food has received our 4 Paw Rating.
---
Buy your dog food with the convenience of Chewy.com and help support this website at the same time! If you click on any of the Chewy.com links or banners on this website, and then make a purchase (no matter what you buy), we receive a small commission on your entire purchase! How cool is that?! We would really appreciate your support and every penny earned through our Chewy commission helps to improve this site and add even more dog food reviews. 🙂
Click Here To Help Support Us By Shopping On Chewy.com
(We Are Incredibly Thankful For Your Support!)
---
From Kirkland Dog Food Review To All Dog Food Reviews
---
---

Summary
Reviewer
Review Date
Reviewed Item
Author Rating