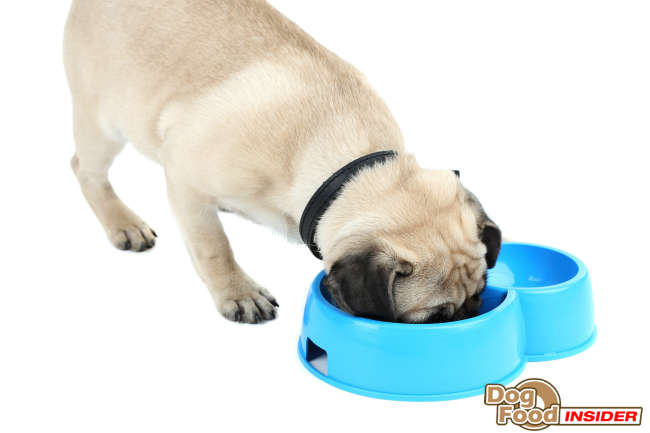 This post may contain affiliate links. We are compensated for referring customers to our affiliate partners.

You can find detailed information about Kirkland, a private label brand made for Costco by Diamond Pet Foods, Inc., in our main review of Kirkland Dog Food. There you will also find information about how the food is made, recalls, and their quality control measures. This review will provide some information about the main ingredients, additional ingredients that stand out, the guaranteed analysis, and any special concerns.
Kirkland has a very good reputation with dog breeders and dog show exhibitors, especially in areas served by Costco, and many people say they have been feeding the food for years with good results. Kirkland's grain free line of foods is called Kirkland Signature Nature's Domain. Kirkland's food is designed to compete with premium dog foods at a lower cost. They contain no corn, soy, or wheat; and they have no animal digest, by-products, or artificial preservatives. These are some of the reasons they have been popular with dog breeders and exhibitors, especially people who own multiple dogs. They are able to feed what seems like a good quality food at a lower cost which is an important consideration when you have multiple dogs.
---
---
Special Note About Kirkland Dog Food
Note that there is currently some customer confusion over Kirkland's canned dog foods. Different Costco stores seem to have different versions of the foods – either the chicken and rice formula, the chicken and beef with vegetables formula, chicken and lamb with rice, or the lamb and rice formula. There are also some cans labeled as "cuts in gravy." Some of the cans are 14 ounces and some of them are 13.2 ounces. There may also be smaller cans. Some of the foods are being made for Costco by Simmons Pet Food and some of the foods are being made by American Nutrition. As far as we can tell, all of these canned foods have similar ingredients and guaranteed analyses. We hope that Costco will do something to make the situation less confusing for their customers. It would also be helpful if they would create a web site with information for the food since it is so popular.
Ingredients In Kirkland Signature Super Premium Mature Dog Chicken, Rice & Egg Formula
Chicken, chicken meal, whole grain brown rice, egg product, oatmeal, cracked pearled barley, brewers rice, chicken fat (preserved with mixed tocopherols and vitamin E), dried beet pulp, potatoes, natural chicken flavor, flaxseed, millet, fish meal, potassium chloride, choline chloride, glucosamine hydrochloride, chondroitin sulfate, carrots, peas, kelp, apples, cranberry powder, rosemary extract, parsley flake, dried chicory root, vitamin E supplement, iron proteinate, zinc proteinate, copper proteinate, ferrous sulfate, zinc sulfate, copper sulfate, potassium iodide, thiamine mononitrate, manganese proteinate, manganous oxide, ascorbic acid, vitamin A supplement, L-carnitine, biotin, niacin, calcium pantothenate, manganese sulfate, sodium selenite, pyridoxine hydrochloride (vitamin B6), vitamin B12 supplement, riboflavin, vitamin D supplement, folic acid
Ingredients Overview
The first five ingredients in this food are: Chicken, chicken meal, whole grain brown rice, egg product, and oatmeal. These ingredients show three good sources of animal protein – the chicken, chicken meal, and egg product. We don't always find this many sources of animal protein in the first five ingredients, especially in foods for senior dogs. The other two ingredients in the top five are whole grain brown rice and oatmeal which are a good complement to each other with regard to simple and complex carbohydrates. The brown rice provides quicker energy while the oatmeal requires slower digestion and releases energy more slowly. These are good ingredients in the top five for any dog food.
We note that Kirkland/Costco says the following about this food:
"Kirkland Signature Super Premium Complete Mature Dog Food is made with chicken, rice and vegetables. Enriched with antioxidants, Super Premium dog food is designed to meet all of the nutritional needs of your pet. Fresh chicken and egg make an ideal protein blend, while whole grain brown rice provides a highly digestible source of carbohydrate. This fresh chicken formula is enriched with garden vegetables, fruits and herbs. The crunchy kibble pieces into which these ingredients are formed help clean teeth and reduce plaque."
The only problem we have with these claims is that most studies and vets who specialize in oral health say that eating crunchy kibble doesn't really make much difference as far as keeping a dog's teeth clean or reducing plaque. It's necessary to brush your dog's teeth regularly, provide chews or dental toys, or feed a food that is specially prepared with a dental formula to really make a difference to your dog's teeth.
You should note that Kirkland uses no corn, wheat, or soy in their foods, and no artificial preservatives or animal by-products.
Top 5 Ingredients Breakdown
Chicken is the first ingredient and chicken meal is the second ingredient. Together, this indicates that the food contains a lot of good quality chicken protein. Chicken is about 80 percent protein and it's a good source of Vitamin B6 and Phosphorus, and a very good source of Niacin and Selenium. Chicken meal is a condensed form of chicken with most of the moisture removed so it contains several times as much protein as whole chicken.
The third ingredient is whole grain brown rice. Brown rice is often used in dog foods, especially as a change from corn. From a dog food viewpoint, rice is a cereal grain. Brown rice is higher in fiber than white rice, and less processed. It can also be a little more irritating to the stomach than white rice. It's a simple carbohydrate that can give dogs quick energy. Used in conjunction with more complex carbs in a dog food, brown rice is a good ingredient.
The fourth ingredient is egg product which is another good source of animal protein. The label doesn't specify if the eggs are dried or whole but it doesn't really matter. Both provide the same protein in the food. Eggs offer high bioavailability for mammals like dogs.
The fifth ingredient is oatmeal. Oatmeal is frequently used in dog foods, especially in foods that don't use corn or wheat. Many dogs that have allergies to corn or wheat can eat oatmeal without a problem. Oatmeal features about 74 percent carbohydrates, 12 percent protein, and 14 percent fat. It's a good source of dietary fiber, Phosphorus and Selenium, and a very good source of Manganese. It's slow to digest so it can keep your dog feeling full for a long time. Used in conjunction with some simpler carbs that digest more quickly, such as rice, it's a good source of long-term energy.
Overall, these ingredients seem to meet some of the company's claims about the food. They provide good meat protein with chicken and chicken meal. There is more animal protein with the eggs. The carbohydrate sources (whole grain brown rice and oatmeal) should not be a problem for most dogs. However, if you are opposed to grains on principle, you will need to look for another food. We particularly like seeing the good animal protein in this food for mature dogs since so many dog food companies go for lower protein in their senior dog foods. Studies show that mature dogs need more protein, not less.
---
---
Additional Ingredients of Interest
The next ingredient is cracked pearled barley. Cracked pearled barley has been polished to remove part of its hull and bran; and make it easier to digest. Keep in mind that the more it's processed, the more nutrients it loses, even if it makes it easier to digest. It has a moderate amount of starch that can be slowly digested, along with soluble fiber. It features about 7 percent protein, 3 percent fat, and 90 percent carbohydrates.
The food also contains brewers rice. Brewers rice is generally derided in dog food reviews as a cheap filler ingredient. It's a by-product of the rice milling industry. Truthfully, it doesn't add a lot of nutrients to the food. According to AAFCO it is "the small milled fragments of rice kernels that have been separated from the larger kernels of milled rice." Brewers rice is a processed rice product that is missing many of the nutrients contained in whole ground rice and brown rice. It is often used in pet foods. Brewer's rice is used as a source of fiber in dog foods. Used in moderation it adds texture and structure to dog food. It should be noted that it can play a role in some dog foods, such as a weight control food or, here, in a food for mature dogs. Not every ingredient in a dog food has to be chock full of protein and other nutrients. Sometimes a formula needs a few other ingredients that won't upset the rest of the recipe.
The food also contains chicken fat (preserved with mixed tocopherols and Vitamin E). Chicken fat is a good, named fat source in dog food. It's also a good source of Omega-6 fatty acid.
You will also find dried beet pulp. There are some misconceptions about beet pulp, probably because of the name. Dried beet pulp is a natural, fermentable source of fiber. It is a wonderful addition to dog food to help move fecal matter along in the intestines, for one reason because it soaks up a lot of moisture and keeps things moving. It also acts as a pre-biotic to help good bacteria grow in the gut. Dried beet pulp is not a source of sugar for dogs. It does not make dogs hyper. The sugar has already been removed. "Despite being a byproduct of sugar beet processing, beet pulp itself is low in sugar and other non-structural carbohydrates, but high in energy and fiber. Among other nutrients, it contains 10 percent protein, 0.8 percent calcium and 0.5 percent phosphorus." (Source)
The food also contains fish meal. Fish meal is a desirable protein source in a dog food. It's usually made from some of the white fish species or Menhaden, and can vary depending on the season. AAFCO defines fish meal this way: "the clean, dried, ground tissue of un-decomposed whole fish or fish cuttings, either or both, with or without the extraction of part of the oil." High quality fish meal usually contains between 60% and 72% crude protein by weight. It is also an excellent source of essential fatty acids. Diamond, the maker of Kirkland, says they use ethoxyquin-free fish meal.
The food also contains flaxseed. Flaxseed is a good source of omega-3 and omega-6 fatty acid but it's also a phytoestrogen and it can cause hormonal problems for dogs, especially for unspayed female dogs. If you are a dog breeder, you should be careful about feeding a food with heavy concentrations of this ingredient to a puppy.
The food also contains kelp which is a good source of trace minerals. Cranberry powder is an antioxidant and preservative. Rosemary extract also acts as a preservative. Dried chicory root is a source of inulin which is a prebiotic. Chicory root contains about 20 percent inulin before drying.
The food also contains chelated minerals. Amino acids are bonded to the minerals making them easier to digest. Chelated minerals are more expensive fore dog food manufacturers to use so their presence in a food is often a sign of a better dog food.
The ingredients list includes the compound L-carnitine. L-carnitine comes from the amino acids lysine and methionine. It helps the body turn fat into energy, among other things. This is probably added out of concern that some mature dogs do gain weight which can be unhealthy for them.
We also note the inclusion of glucosamine and chondroitin. It's always nice to see these supplements added to a food but they are probably not present in large enough amounts to help your dog. If you would like your dog to benefit from joint supplements, it's usually better to buy them yourself at a dugstore, discount store, or online and add them to his diet.
Guaranteed Analysis
Crude Protein ….. 27.0% min
Crude Fat ….. 12.0% min
Crude Fiber ….. 3.0% max
Moisture ….. 10.0% max
Calcium ….. 0.9% min
Phosphorus ….. 0.7% min
Sodium ….. 0.25% max
Zinc ….. 225 mg/kg min
Selenium ….. 0.4 mg/kg min
Vitamin E ….. 160 IU/kg min
L-carnitine ….. 30 mg/kg min
Omega-6 Fatty Acids ….. 2.2% min
Omega-3 Fatty Acids ….. 0.4% min
Glucosamine Hydrochloride ….. 1200 mg/kg min
Chondroitin Sulfate ….. 400 mg/kg min
Calories Content
330 calories per 8 oz cup
Nutritional Adequacy Statement
We could not find this information online. Kirkland is a private label and it's hard to track down a lot of their label information.
Dry Matter Basis
On a dry matter basis, this food contains 30 percent protein and 13.3 percent fat. This is plenty of protein for an older dog. There's no reason to reduce the amount of protein you feed your older dog as long as he doesn't have any kidney problems. The food has 13.3 percent fat which is low but not as low as some senior foods. This is usually done so older dogs won't gain too much weight.. Fiber makes up 3.3 percent of the food which is within the normal range for kibbles. The food contains 44.4 percent carbohydrates which is average for a kibble. It should keep most older dogs feeling full.
Summary
We really like this food for mature dogs. Many senior dog foods try to combine their food with a weight loss food. The result is a food that's too low in protein and other nutrients. This food has lots of good animal protein for mature dogs. The ingredients and guaranteed analysis look very good indeed.
---
---
Kirkland Signature Super Premium Mature Dog Chicken, Rice, and Egg Formula has received our above average 4 1/2 paw rating, making this a high quality dog food.
Summary
Reviewer
Review Date
Reviewed Item
Kirkland Signature Mature Dog Formula
Author Rating