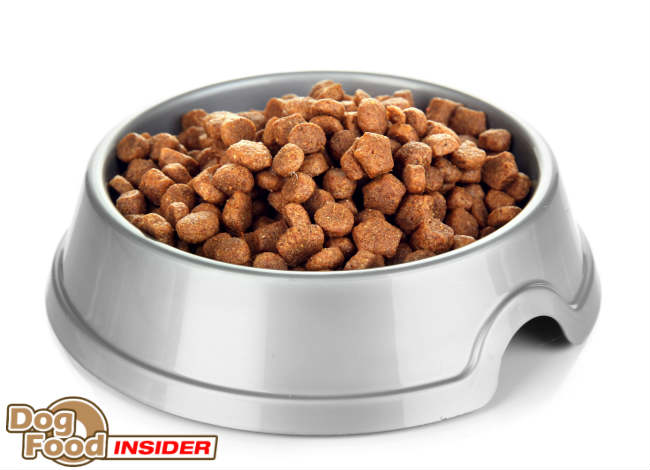 This post may contain affiliate links. We are compensated for referring customers to our affiliate partners.
Dog Food Insiders Rating
3 PAWS
---
Find Out Why Purina One Is Rated Much Higher By Actual Dog Owners
---
Company Information
Purina ONE is made by Nestlé Purina Petcare, the largest pet food manufacturer in the world. Purina is headquartered in St. Louis, Missouri, where they are a major employer and contributor to the community. They have a portfolio of some 30 well-known pet food brands, as well as producing cat and dog litter products. They have global revenues of some $12 billion and produce about 12 percent of Nestle's company revenue, making Nestle-Purina a vitally important asset to the company.
---
Find Out Why Purina One Is Rated Much Higher By Actual Dog Owners
---
Product Overview
The Purina ONE brand is considered to be a premium dog food. It was introduced in 1986 as Ralston-Purina's first premium pet food. (Purina has since sold their animal feed division – Purina Mills — to Land O' Lakes – and Purina merged with Nestle in the late 1990s to focus on pet food.) The brand includes a number of formulas such as Purina ONE Natural Blends which uses natural ingredients. It was the first line of natural pet foods with a wide national distribution in grocery and other retail stores. They have recently introduced Purina ONE Beyond which is made without corn or wheat. It seems to be marketed toward people who own rescue and shelter pets. Purina also makes a wide range of Purina ONE foods for cats. Purina ONE is sold in grocery stores but it is also found in pet stores and feed stores, making it a crossover brand. It is a popular food with many dog show exhibitors and breeders as well as pet owners.
Dry Foods
Purina ONE SMARTBLEND Healthy Puppy Formula
Purina ONE SMARTBLEND Large Breed Puppy Formula
Purina ONE SMARTBLEND Lamb & Rice Formula
Purina ONE SMARTBLEND Chicken & Rice Formula
Purina ONE SMARTBLEND Small Bites Beef & Rice Formula
Purina ONE SMARTBLEND Large Breed Adult Formula
Purina ONE SMARTBLEND Sensitive Systems
Purina ONE SMARTBLEND Healthy Weight Formula
Purina ONE SMARTBLEND Vibrant Maturity 7+ Senior Formula
Purina ONE Beyond White Meat Chicken & Whole Oat Meal Recipe
Purina ONE Beyond Ranch Raised Lamb & Whole Barley Recipe
Canned Foods
Wholesome Lamb & Long Grain Rice Entree
Wholesome Chicken & Brown Rice Entree
Wholesome Beef & Brown Rice Entree
Wholesome Turkey & Barley Entree
Wholesome Lamb & Brown Rice Entree Tender Cuts in Gravy
Wholesome Chicken & Brown Rice Entree Tender Cuts in Gravy
Wholesome Beef & Barley Entree Tender Cuts in Gravy
Review Of Purina ONE SMARTBLEND Large Breed Adult Formula
---
Ingredients in Purina ONE SMARTBLEND Large Breed Adult Formula
Chicken, brewers rice, poultry by-product meal (natural source of glucosamine), corn gluten meal, whole grain wheat, whole grain corn, soy flakes, animal fat preserved with mixed-tocopherols (form of Vitamin E), pea fiber, oat meal, soybean meal, fish meal (natural source of glucosamine), animal digest, glycerin, calcium phosphate, salt, calcium carbonate, caramel color, potassium citrate, Vitamin E supplement, choline chloride, potassium chloride, zinc sulfate, L-Lysine monohydrochloride, L-ascorbyl-2-polyphosphate (source of Vitamin C), ferrous sulfate, sulfur, manganese sulfate, niacin, Vitamin A supplement, copper sulfate, calcium pantothenate, thiamine mononitrate, pyridoxine hydrochloride, garlic oil, Vitamin B-12 supplement, riboflavin supplement, calcium iodate, Vitamin D-3 supplement, folic acid, menadione sodium bisulfite complex (source of Vitamin K activity), biotin, sodium selenite.
---
There are a couple of caveats to mention before I start this review.
I've been told in the past by people who used to work at Purina that the Purina ONE Large Breed formula was the same as the basic Purina ProPlan formula, which is their top-of-the-line food, with just a couple of small differences (flavoring sprayed on at the end instead of baked in – that sort of thing). However, that was several years ago and if it ever was true, it's probably not true any longer. But that's why I'm choosing the Large Breed formula for the review.
Many dog show people have fed this food for years and been happy with it. However, Purina made a big change to the food in 2011, changing it from simply Purina ONE to Purina ONE "SMARTBLEND" with some spongy bits added. I have some real hangups about spongy bits in food, especially when I don't know what's in them. I don't like changes to dog food in general since they are often made to cut costs. Every time I see "New and Improved!" I cringe because I usually have to change foods. So I'm not at all sure that this food is as good as it used to be. Someone who fed it before and after the changeover would be a good source of information if you are thinking of feeding it to your dog.
So, now that you know where I'm coming from with this food, here's my review.
---
Find Out Why Purina One Is Rated Much Higher By Actual Dog Owners
---
Ingredients Breakdown
Probably the best thing about this food is that the first ingredient is chicken – a good meat protein. This is likely whole chicken, so a lot of the water will cook out of it during processing, but it's great to see it right up front as the top ingredient. All of the Purina ONE foods start off with meat or fish. However, after that beginning, you get brewer's rice, corn gluten meal, and whole grain wheat in the top five ingredients, so that's a lot of grain.
Now, Purina really likes grain and they defend it on their home site, which I find interesting and refreshing. Much of what they say here is accurate. And I like the fact that they talk about nutrition as opposed to just ingredients. Of course, dogs are carnivores, from a biological standpoint. That's not really up for dispute, but they do eat more than just meat. I'll say something about Purina's approach below.
Also in the top five ingredients is poultry by-product meal (natural source of glucosamine). It's by-product meal – "a high-protein ingredient made from grinding clean, rendered parts of poultry carcasses and can contain bones, offal and undeveloped eggs, but only contains feathers that are unavoidable in the processing of the poultry parts. Yum. Now, it would be better if they specified a particular kind of poultry, but knowing that it's poultry is better than just generic by-products. And it is high in protein. Since it is a meat protein it is also relatively easy for your dog to digest compared to plant proteins (depending how they are processed).
More Ingredients Of Concern
Other ingredients that stand out include more corn (whole grain corn); soy flakes and soybean meal – possibly in the new SMARTBLEND spongy bits, I'm guessing; pea fiber which is being used by many dog food manufacturers today; animal fat – which would be better if it were a named fat; and animal digest. It's best to avoid digest in your dog's food. It's not really food you want to feed your dog. And when it is the generic "animal" digest it can come from any source. The food also contains menadione sodium bisulfite complex (source of Vitamin K activity), which is synthetic vitamin K3 – a controversial ingredient.
Quality Of Ingredients
For a premium dog food, this is a mixed bag of ingredients. Chicken as the first ingredient is great but after that there is a lot of grain and ingredients from unnamed sources (animal fat, animal digest). The ingredients seem to be of mediocre quality.
Purina, Grain, and Nutrition
I really like what Purina says on their site about looking at nutrition and not just individual ingredients. I think they do consider the whole health of the dog. Before dog food, they were making animal feeds for decades and I think they are very knowledgeable about animal nutrition. They have quality research facilities and they fund a lot of research into pet nutrition. I think it's likely that a lot of their foods are nutritious not because of their ingredients necessarily but because of those vitamins, minerals, and other scientific words you see in the ingredient list. They know what to add to the food. Call it better living through chemistry, perhaps. You may not like all of the ingredients in their foods, but the sum is greater than the parts.
As far as corn and grains go, I think Purina probably gets as much out of them as possible. Perhaps the individual ingredients, including corn and grains, don't look impressive on the label, but combined together, the food is probably good for your dog. I say that not just because of what's on the Purina site but because I know countless people who feed this food and I've seen the condition and health of their dogs long-term. Regardless of what the ingredient list looks like, someone knows what they are doing in formulating this food.
---
Find Out Why Purina One Is Rated Much Higher By Actual Dog Owners
---
Special Concerns
I keep coming back to those spongy bits in the SMARTBLEND formulas. Comparing the new formula of Purina ONE SMARTBLEND (any version) to the older, pre-SMARTBLEND ingredient list, it looks like they have added the pea fiber and more soy. If you are a dog breeder, this can be problematic. Soy can disrupt the endocrine system and make it very hard for a female dog to conceive. So, if you're a dog breeder, stay away from foods that contain soy as an ingredient. For more information on this phenomenon you can Google "soy phytoestrogens."
Guaranteed Analysis
Crude Protein (MIN) 26%
Crude Fat (MIN) 12%
Crude Fiber (MAX) 4.5%
Moisture (MAX) 12%
Linoleic Acid (MIN) 1.3%
Calcium (Ca) (MIN) 1%
Phosphorus (P) (MIN) 0.8%
Zinc (Zn) (Min) 150 mg/kg
Selenium (Se) (MIN) 0.35 mg/kg
Vitamin A (MIN) 15,000 IU/kg
Vitamin E (MIN) 460 IU/kg
Ascorbic Acid (MIN)* 70 mg/kg
Glucosamine (MIN)* 400 ppm
Omega-6 Fatty Acids (MIN)* 1.5%
* Not recognized as an essential nutrient by the AAFCO Dog Food Nutrient Profiles
With 26 percent protein, this food has much more protein than the government recommended amount (18 percent for adult dogs; 25 percent for performance dogs). The 26 percent figure is consistent for most of the Purina ONE SMARTBLEND formulas. The food has 12 percent fat as a minimum. Other Purina ONE foods have a little more fat, but this is a fair amount for a large breed dog food where it's desirable to keep dogs a little leaner. It's also in keeping with the government's 9 to 15 percent guideline for an adult dog. At 4.5 percent the fiber content is a little higher than with some other foods, but it's not excessive.
The food also contains Linoleic acid, Glucosamine, and Omega-6 fatty acids. Linoleic acid is good for your dog's coat and glucosamine is considered to be good for your dog's joints. It's probably noted here because large breed dogs can have special joint problems. Omega-6 is fine but, along with the glucosamine, it's probably not present in a high enough amount to really make a difference for your dog. If you want to add supplements to your dog's diet for any special problems, you will probably need to add them in addition to your dog's food. Cooking at high temps is not known for being good for supplements and when they are added after cooking, there is no way to be sure they are evenly distributed throughout the food. But, Purina gets points for including these desirable supplements in the food either separately or in the ingredients.
Calorie Content Metabolizable Energy (ME): 355 kcal/cup
Company Reputation And Quality Control Issues
As a manufacturer, Purina has an excellent reputation. Their products are rarely recalled which is remarkable considering how much pet food they make each year. Dog food purists dislike the company because they make foods for every budget and they do include a lot of corn and other grains in their foods. They are probably not a dog food manufacturer that will ever appeal to elitists.
Bottomline
Purina ONE SMARTBLEND Large Breed Adult Formula is arguably one of the best dog foods you can buy in the grocery store. However, compared to other premium dog foods sold in pet stores, it is only mediocre in terms of ingredients. And yet, it's not a bad food. It's not a great food but it's not a bad food. Your dog will likely be healthy eating this food thanks to Purina's knowledge of pet nutrition. You can certainly buy better premium dog foods with better ingredients but you will pay more. The one group of people who really shouldn't feed this food is serious dog breeders because of the soy it contains and potential problems with phytoestrogens. This is a new issue since the change in formula in the last year so we may hear more about it in the future.
Purina One Dog Food has earned our 3 paw rating.
---
Buy your dog food with the convenience of Chewy.com and help support this website at the same time! If you click on any of the Chewy.com links or banners on this website, and then make a purchase (no matter what you buy), we receive a small commission on your entire purchase! How cool is that?! We would really appreciate your support and every penny earned through our Chewy commission helps to improve this site and add even more dog food reviews. 🙂
Click Here To Help Support Us By Shopping On Chewy.com
(We Are Incredibly Thankful For Your Support!)
---
From Purina One Dog Food Review To All Dog Food Reviews
---
---

Summary
Reviewer
Review Date
Reviewed Item
Author Rating