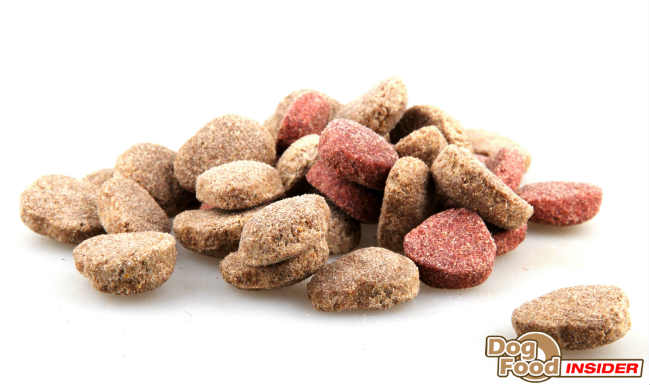 This post may contain affiliate links. We are compensated for referring customers to our affiliate partners.
Dog Food Insiders Rating
2 1/2 PAWS
*This food is identical in every way to Hill's Science Diet Adult Healthy Mobility Dog Food. We have added a few notes in this review about the nutritional needs of large breed dogs.
You can find detailed information about Hill's Pet Nutrition, a subsidiary of the Colgate-Palmolive Company, the maker of Hill's Science Diet Pet Food, in our main Science Diet Dog Food review. There, you will also find information about how the food is made, recalls, and their quality control measures.
Hill's Science Diet provides more individualized foods for dogs with different health conditions and life stages than any other brand that comes to mind. If your dog has any kind of health issue, regardless of his age or condition, it's very possible that Science Diet has a food for him, or your vet can prescribe one of their Prescription Diets for him. Their Prescription Diets are costly and even their regular foods are expensive. Many people question whether these are good foods when they look at the ingredients, but dogs who eat these foods seem to do well.
---
Find Out Why Dog Owners Rate This Food MUCH Higher Than We Do
---
---
Ingredients in Hill's Science Diet Adult Healthy Mobility Large Breed Dog Food
Chicken Meal, Whole Grain Wheat, Brewers Rice, Whole Grain Sorghum, Cracked Pearled Barley, Brown Rice,Soybean Meal, Dried Beet Pulp, Chicken Liver Flavor, Pork Fat, Soybean Oil, Fish Oil, Lactic Acid, Flaxseed, Pork Liver Flavor, DL-Methionine, Calcium Carbonate, Iodized Salt, Potassium Chloride, Choline Chloride, vitamins (Vitamin E Supplement, L-Ascorbyl-2-Polyphosphate (source of vitamin C), Niacin Supplement, Thiamine Mononitrate, Vitamin A Supplement, Calcium Pantothenate, Biotin, Vitamin B12 Supplement, Pyridoxine Hydrochloride, Riboflavin Supplement, Folic Acid, Vitamin D3 Supplement), minerals (Ferrous Sulfate, Zinc Oxide, Copper Sulfate, Manganous Oxide, Calcium Iodate, Sodium Selenite),Taurine, Oat Fiber, Mixed Tocopherols for freshness, L-Carnitine, Phosphoric acid, Beta-Carotene,Natural Flavors, Dried Apples, Dried Broccoli, Dried Carrots, Dried Cranberries, Dried Peas.
---
Top 5 Ingredients Breakdown
The first five ingredients in this food are: Chicken Meal, Whole Grain Wheat, Brewers Rice, Whole Grain Sorghum, and Cracked Pearled Barley. As with many other Science Diet foods, this suggests a food that has some good animal protein and grains/cereals providing a lot of carbohydrates. A couple of these ingredients are frequently triggers for allergies in dogs that are prone to allergies – chicken and wheat, for example. If your dog does have allergies or food intolerances to these ingredients or other things in the food, you will obviously need to find a different food. The food also contains soy products (later in the ingredient list) which are another frequent cause of food allergies in dogs. This is not to suggest that this is a "bad" food or that foods with grains/cereals are automatically bad foods. But you need to be aware of these ingredients just in case your dog does have these food issues.
Chicken meal is the first ingredient in this food and it's a good ingredient for dog food. Chicken is about 80 percent protein and it's a good source of Vitamin B6 and Phosphorus, and a very good source of Niacin and Selenium. It's also a good source of glucosamine for joint health. As the first ingredient, the food should contain more chicken than any other ingredient. Chicken meal is the condensed version of chicken, with most of the moisture removed, so it contains several times as much protein as whole chicken. Chicken liver flavor, which appears farther down the list, is a better source of flavor than "natural flavor" which you sometimes see added to dog food.
The next four ingredients in the food are grains/cereals, adding a lot of carbohydrates to the food. They are all relatively high energy grains that are digested quickly and get in your dog's bloodstream fast. Whole grains like some of these grains, however, are harder for your dog to digest. That's not a plus. Whole grain wheat is mostly carbs with some protein and fat (15 percent protein, 5 percent fat, 80 percent carbohydrates). It is considered to be a good source of dietary fiber, manganese, and selenium.
---
---
Brewers rice, the third ingredient, is a by-product of the rice milling industry. According to AAFCO it is "the small milled fragments of rice kernels that have been separated from the larger kernels of milled rice." Brewers rice is a processed rice product that is missing many of the nutrients contained in whole ground rice and brown rice thus reducing the quality. It is often used in pet foods. Brewer's rice is used as a source of fiber in dog foods. Used in moderation it adds texture and structure to dog food but it's the third ingredient here.
The fourth ingredient in whole grain sorghum. While sorghum is currently touted as having a lot of health benefits for humans, such as being gluten-free and helping with some health issues (which haven't been proven), it's usually associated with livestock feed. Sorghum is about 3 percent protein, 8 percent fat, and 89 percent carbohydrates. It contains some B vitamins and a few assorted minerals, but not large quantities of anything, although it does have a lot of omega-6 fatty acid. One species of sorghum is the source of sorghum molasses. Other kinds of sorghum are used for grass/fodder and grains for animals.
The fifth ingredient is cracked pearled barley. Cracked pearled barley has been polished to remove part of its hull and bran; and make it easier to digest. Keep in mind that the more it's processed, the more nutrients it loses, even if it makes it easier to digest. It has a moderate amount of starch that can be slowly digested, along with soluble fiber. It features about 7 percent protein, 3 percent fat, and 90 percent carbohydrates.
Overall, the first five ingredients in this food provide some good animal protein in the form of chicken meal as the first ingredient. They also provide some plant-based protein with the wheat and barley. However, many of these ingredients are primarily carbohydrates from grains. If your dog has no allergies or food intolerances, he can probably eat this food without any difficulty but this food may cause some dogs problems. We do note that, unlike many Science Diet foods, this food doesn't contain any corn.
Additional Ingredients of Interest
Other ingredients in the food of interest include brown rice. Brown rice is often used in dog foods, especially as a change from corn. From a dog food viewpoint, rice is a cereal grain. Brown rice is higher in fiber than white rice, and less processed. It can also be a little more irritating to the stomach than white rice. It's a simple carbohydrate that can give dogs quick energy. Used in conjunction with more complex carbs in a dog food, brown rice is a good ingredient.
As for concerns about arsenic in rice, and thus in dog foods that include rice, the FDA has not made any recommendation for pet food companies to stop using rice or for dog owners to avoid feeding foods that contain rice. Nor has the FDA suggested that people stop eating rice. If you are uncomfortable about the possibility of minute amounts of arsenic in rice or dog food, you should avoid this food or any dog food that contains rice.
We are concerned about a couple of ingredients in the food. The food containsflaxseed. Lots of people like flaxseed and flaxseed oil for their dogs since it's a great source of omega 3 and 6 fatty acids (especially omega 3). However, flaxseed is also a significant source of phytoestrogen. These are plant-derived substances that mimic some of the effects of estrogen in the body. This can be especially true in females. Without going into the possible effects on humans, many dog breeders have reported that feeding dogs foods that contain flaxseed or flaxseed oil has interfered with conception and gestation. So flaxseed in a dog food is something that should be viewed cautiously, especially if you breed dogs. If you have an intact female dog, especially in a house with male dogs, you may find that foods with flaxseed causes males to think the female is in season. The same phenomenon often occurs with foods containing soy.
---
Find Out What Dog Owners Are Saying About This Product
---
This food contains soybean meal and soybean oil. They have many of the same issues as flaxseed. Soybeans are a good source of protein and fat and they are low in carbs but they are a common cause of allergies in dogs. They are also a source of phytoestrogens which can play interfere with your dog's hormones to a certain extent.
The food also contains pork fat as a named fat. This is a named fat source and dogs love pork. As far as we know, there's nothing wrong with using pork fat in dog foods. We also see pork liver flavor in the food. Added flavors always raise a few eyebrows, but since this is a named source, it looks fine. However, the food also contains "Natural Flavors" which is not fine. Natural flavors in dog food could be almost anything approved by the FDA as GRAS (generally recognized as safe). It is frequently monosodium glutamate (MSG) – the same MSG that is added to human foods for flavor and color. Your dog doesn't need MSG unless you are trying to discourage him from eating his own poop (a common use of MSG with dog owners). So, pork liver flavor, okay; natural flavors, no.
You will also notice that the food contains fish oil. Fish oil is a good source of omega-3 fatty acids which are good for your dog's skin, coat, joints, and many other nutritional needs.
You also find dried beet pulp in the food. There are some misconceptions about beet pulp, probably because of the name. Dried beet pulp is a natural, fermentable source of fiber. It is a wonderful addition to dog food to help move fecal matter along in the intestines. It also acts as a pre-biotic to help good bacteria grow in the gut.
Finally, we notice that the food contains some interesting additives toward the end of the ingredient list. Taurine is an amino acid that is often added to dog foods today to prevent a deficiency that could cause heart problems and other health problems in some dogs. Mixed tocopherols are usually E vitamins, so they are a natural preservative. We also see a number of fruits and vegetables at the end of the list, most likely for flavor. They won't be present in large amounts at the end of the ingredient list.
Special Note About Hill's Science Diet Adult Healthy Mobility Large Breed
This food is labeled for "large dogs" but the ingredients, nutrient percentages, and everything else in the food are identical to Hill's Science Diet Adult Healthy Mobility Dog Food that is not formulated for large dogs. The food is supposed to be recommended for large dogs weighing 55-110 pounds and giant breed dogs that weigh over 110 pounds. Adult dogs of this size often suffer from arthritis and joint and mobility problems. We appreciate that any dog, including dogs that are not large or giant breeds, can have mobility problems and so they might need a mobility dog food. However, it seems somewhat duplicitous for Hill's Science Diet to sell exactly the same food marketed under two different labels.
Growing large breed puppies do have special nutritional needs and you can read more about them in our reviews of large breed puppy foods. Large breed and giant breed dogs, however, don't have the same nutritional needs as growing puppies. Unfortunately, dog food companies too often sell food that is low in protein and fat and high in carbohydrates for these dogs. Perhaps the idea is to keep larger dogs skinny to avoid joint issues? Or less active? Whatever the case, there is no particular reason to feed large breed or giant breed dogs foods that are low in protein and fat and high in carbs. They do not have the high metabolic rate that many Toy and small breed dogs have, but they still require good nutrition with moderate protein and fat. There is no need for excessively high amounts of carbohydrates either. As long as large and giant breeds are maintained at a trim, healthy weight, they should not experience a greater chance of having joint or mobility problems. Obviously, obesity will increase problems with arthritis and joint issues.
This particular food claims to be formulated for dogs with mobility and joint issues. The ingredients are supposed to have natural sources of glucosamine and chondroitin (which comes from chicken, pork, and other ingredients in the food), L-carnitine and calcium for bones and muscles, and omega-3 fatty acids.
Guaranteed Analysis
(Science Diet already figures for dry matter basis)
Protein 21.4
Fat 14.9
Carbohydrate (NFE) 54.8
Crude Fiber 2.5
Calcium 1.16
Phosphorus 0.7
Sodium 0.36
Potassium 0.75
Magnesium 0.134
Vitamin C 324 mg/kg
Vitamin E 747 IU/kg
EPA 0.358
Omega-3 Fatty Acids Total 1.41
Chondroitin Sulfate 1674 mg/kg (ppm)
Glucosamine 902 mg/kg (ppm)
Calories Content
365 calories per 8 oz cup
Nutritional Adequacy Statement
Animal feeding tests using AAFCO procedures substantiate that Science Diet Adult Healthy Mobility Large Breed Dog Food provides complete and balanced nutrition for maintenance of adult dogs.
Dry Matter Basis
On a dry matter basis, this food contains 21.4 percent protein and 14.9 percent fat. These are rather low percentages for dog food today, especially for a better quality food. Fiber makes up 2.5 percent of the food which is a very low percentage. The food contains 54.8 percent carbohydrates which is a very high percentage of carbs for any food.
Summary
This food contains supplements and additives which could be beneficial to a large breed or giant breed dog with joint and mobility problems. However, the protein and fat content is quite low, especially for a quality dog food. The carb content is very high. This food is also identical to Hill's Science Diet Adult Healthy Mobility Dog Food which is not especially formulated for large dogs. We feel your large dog would be better off eating a food with more protein and fat – and fewer carbs. Add your own glucosamine and chondroitin.
Science Diet Adult Healthy Mobility Large Breed Dog Food has received our 2.5 paw rating.
---
Buy your dog food with the convenience of Chewy.com and help support this website at the same time! If you click on any of the Chewy.com links or banners on this website, and then make a purchase (no matter what you buy), we receive a small commission on your entire purchase! How cool is that?! We would really appreciate your support and every penny earned through our Chewy commission helps to improve this site and add even more dog food reviews. 🙂
Click Here To Help Support Us By Shopping On Chewy.com
(We Are Incredibly Thankful For Your Support!)
---
Healthy Mobility Large Breed To The Full Science Diet Dog Food Review
Read All Of Our Dog Food Reviews
---
---

Summary
Reviewer
Review Date
Reviewed Item
Hill's Science Diet Adult Healthy Mobility Large Breed Dog Food
Author Rating