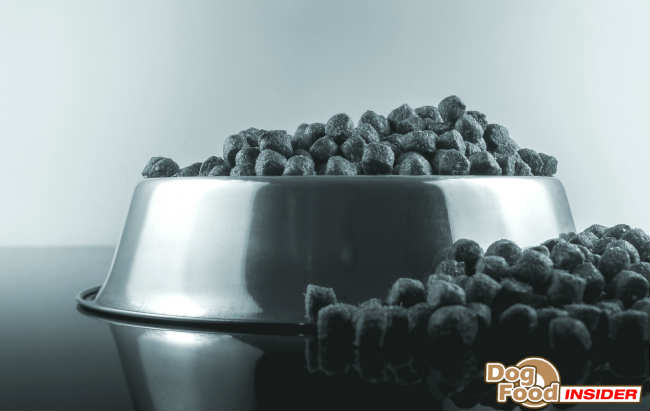 This post may contain affiliate links. We are compensated for referring customers to our affiliate partners.
Dog Food Insiders Rating
4 PAWS
You can find detailed information about Hill's Pet Nutrition, a subsidiary of the Colgate-Palmolive Company, the maker of Hill's Science Diet Pet Food, in our main Science Diet Dog Food review. There, you will also find information about how the food is made, recalls, and their quality control measures.
Hill's Science Diet provides more individualized foods for dogs with different health conditions and life stages than any other brand that comes to mind. If your dog has any kind of health issue, regardless of his age or condition, it's very possible that Science Diet has a food for him, or your vet can prescribe one of their Prescription Diets for him. Their Prescription Diets are costly and even their regular foods are expensive. Many people question whether these are good foods when they look at the ingredients, but dogs who eat these foods seem to do well.
---
List of Ingredients Hill's® Science Diet® Adult Sensitive Skin
Brewers Rice, Whole Grain Corn, Corn Gluten Meal, Pork Meal, Dried Egg Product, Soybean Oil, Flaxseed, Chicken Liver Flavor, Pork Fat, Lactic Acid, Potassium Chloride, L-Lysine, Iodized Salt, DL-Methionine, Calcium Carbonate, vitamins (Vitamin E Supplement, L-Ascorbyl-2-Polyphosphate (source of vitamin C), Niacin Supplement, Thiamine Mononitrate, Vitamin A Supplement, Calcium Pantothenate, Biotin, Vitamin B12 Supplement, Pyridoxine Hydrochloride, Riboflavin Supplement, Folic Acid, Vitamin D3 Supplement), Choline Chloride, L-Tryptophan, minerals (Ferrous Sulfate, Zinc Oxide, Copper Sulfate, Manganous Oxide, Calcium Iodate, Sodium Selenite),Mixed Tocopherols for freshness, Taurine, Phosphoric Acid,Beta-carotene, Natural Flavors .
---
Top 5 Ingredients Breakdown
The first five ingredients in this food are: Brewers Rice, Whole Grain Corn, Corn Gluten Meal, Pork Meal and Dried Egg Product. Unlike most Science Diet foods which start off with an animal protein as the first ingredient, the first three ingredients in this food are grains. The food doesn't have an animal protein until the fourth ingredient (pork meal). The fifth ingredient is also an animal protein – dried egg product. Overall, the food has a good percentage of protein (27.3 percent), but some of it is coming from plant sources such as the whole grain corn and corn gluten meal.
The first ingredient in this food is Brewers Rice. Brewers rice is a by-product of the rice milling industry. According to AAFCO it is "the small milled fragments of rice kernels that have been separated from the larger kernels of milled rice." Brewers rice is a processed rice product that is missing many of the nutrients contained in whole ground rice and brown rice thus reducing the quality. It is often used in pet foods. Brewer's rice is used as a source of fiber in dog foods. Used in moderation it can add structure and texture to pet food.
The second ingredient is whole grain corn. As the second ingredient, this means the food contains quite a bit of corn. Whole grain corn contains about 5 percent protein (this can vary depending on different factors), 9 percent fat, and about 86 percent carbohydrates. Much of the whole grain corn raised in the U.S. and Canada is sold for animal feed. Whole grain corn has a high glycemic load which means it will get in your dog's bloodstream quickly and give him quick energy but it will also wear off quickly or be converted to fat if it's not used.
The third ingredient is corn gluten meal. Coupled with the whole grain corn, this food has a lot of corn. When a company combines different forms of an ingredient in this way it's called "splitting" and it can be done to disguise how much of an ingredient is actually in the food. Corn and corn gluten meal aren't necessarily "bad" ingredients but it's usually more desirable to see animal proteins instead of plant proteins in a food. Plus, some dogs can be allergic to corn because it has become such a common ingredient. (Dogs can become allergic to any ingredient that is over-used in the pet food industry.) But corn gluten meal does have some benefits. Because it's a meal, it's already condensed and it can contain as much as 60 percent protein. It doesn't actually contain any "gluten" – that's just a trade term. It has nothing to do with the kind of gluten intolerance that people experience. It's easy to digest and it provides some fat and calcium in the diet, along with some crude fiber. It's an ingredient that has pros and cons when you see it in dog food unless you are opposed to all grains on principle. Obviously, when a food has a lot of grain, it's going to be a negative because that usually means there is less animal protein. Dogs typically digest animal protein more easily and get better nutrition from things like chicken, fish, beef, and lamb than they do from corn.
The fourth ingredient is pork meal and it's a good ingredient for dogs. Pork is used more often in dog foods than many people realize. Pork, in general, is 81 percent protein and 19 percent fat. It's a good source of Vitamin C, Niacin, Phosphorus and Zinc, and a very good source of Vitamin B12, Iron and Selenium. In a meal form, it will have most of the moisture removed so it will be condensed and have several times as much protein as the whole form of pork. Most dogs love the taste of pork.
The fifth ingredient is dried egg product. The AAFCO definition for dried egg product is: "Product obtained from egg graders, egg breakers, and/or hatchery operations that is dehydrated, handled as liquid or frozen. These shall be labeled as per USDA regulations governing eggs and egg products (9CFR, Part 59). This product shall be free of shells or other non-egg materials except in such amounts which might occur unavoidably in good processing practices, and contain a maximum ash content of 6% on a dry matter basis." For dog food purposes, there is really no difference between dried egg product and fresh whole eggs. Honestly, it's not going to matter when the ingredients are mashed up in a giant food blender. Plus, there is probably less risk of spreading Salmonella when a company is working with dried egg product. Eggs are often a good way for dog food companies to add more protein to a dog food. They are easy for dogs to digest and the nutrients are easily available to the dog.
---
See The Top Customer Rated Sensitive Skin Dog Food Brands Here
---
Thoughts About The Top 5 Ingredients
Overall, the first five ingredients in this food show a lot of grain but they also look like they provide lots of protein. For the purposes of a dog food for sensitive skin, these first few ingredients look like they probably provide plenty of protein and fat, along with some of the Omega-6 and Omega-3 the food claims it includes. If your dog is not allergic to corn or other grains, the food looks like it could be helpful.
Additional Ingredients of Interest
The food also containsflaxseed. Lots of people like flaxseed and flaxseed oil for their dogs since it's a great source of Omega 3 and 6 fatty acids (especially omega 3) which can help skin conditions. However, flaxseed is also a significant source of phytoestrogen. These are plant-derived substances that mimic some of the effects of estrogen in the body. This can be especially true in females (read more on Wikipedia). Without going into the possible effects on humans, many dog breeders have reported that feeding dogs foods that contain flaxseed or flaxseed oil has interfered with conception and gestation. So flaxseed in a dog food is something that should be viewed cautiously, especially if you breed dogs. If you have an intact female dog, especially in a house with male dogs, you may find that foods with flaxseed causes males to think the female is in season. The same phenomenon often occurs with foods containing soy.
This food contains soybean oil and it has many of the same issues as flaxseed (read more here). Soybeans are a good source of protein and fat and they are low in carbs but they are a common cause of allergies in dogs. They are also a source of phytoestrogens which can interfere with your dog's hormones to a certain extent.
Pork fat is used in the food and we don't have a problem with it. It's a named source of fat. Dogs love pork and pork fat. (Have you seen how your dog acts around bacon?)
We also see chicken liver flavor in the food. Added flavors always raise a few eyebrows, but since this is a named source, it looks fine. However, the food also contains "Natural Flavors" which is not fine. Natural flavors in dog food could be almost anything approved by the FDA as GRAS (generally recognized as safe). It is frequently monosodium glutamate (MSG) – the same MSG that is added to human foods for flavor and color. Your dog doesn't need MSG unless you are trying to discourage him from eating his own poop (a common use of MSG with dog owners). So, chicken liver flavor, okay; natural flavors, no.
Biotin is an obvious ingredient in a dog food for sensitive skin. It's used orally for hair loss and skin problems. Many people take it for these issues (it's easy to find in drugstores or online). It's often added to dog foods.
Finally, we notice that the food contains some interesting additives toward the end of the ingredient list. L-Tryptophan is an essential amino acid and it's commonly found in lots of foods such as red meat, dairy products, and some fruits and other plants. It's a building block for protein biosynthesis and a precursor for serotonin, Niacin, and Auxin. Niacin, in particular, helps keep the skin healthy (read more here). L-Lysine is an essential amino acid in mammals. It's a building block of protein. It also plays a major role in calcium absorption and the body's production of hormones, enzymes, and antibodies. Taurine is an amino acid that is often added to dog foods today to prevent a deficiency that could cause heart problems and other health problems in some dogs. Mixed tocopherols are usually E vitamins, so they are a natural preservative. We also see beta-carotene added. Beta-carotene is a carotenoid from plants that forms vitamin A in the body. It's good for vision, immunity, and other health benefits. You are probably most familiar with it in carrots.
---
See The Top Customer Rated Sensitive Skin Dog Food Brands Here
---
Guaranteed Analysis
(Science Diet already figures for dry matter basis)
Protein ….. 27.3
Fat ….. 17.7
Carbohydrate (NFE) ….. 48.8
Crude Fiber ….. 1.3
Calcium ….. 0.72
Phosphorus ….. 0.6
Sodium ….. 0.34
Potassium ….. 0.68
Magnesium ….. 0.084
Vitamin C ….. 262 mg/kg
Vitamin E ….. 607 IU/kg
Omega-3 Fatty Acids Total ….. 1.50
Omega-6 Fatty Acids Total ….. 4.99
Calories Content
376 calories per 8 oz cup
Nutritional Adequacy Statement
Animal feeding tests using AAFCO procedures substantiate that Science Diet® Adult Sensitive Skin Dog Food provides complete and balanced nutrition for maintenance of adult dogs.
Dry Matter Basis
On a dry matter basis, this food contains 27.3 percent protein and 17.7 percent fat. These are moderately high percentages of protein and fat. Fiber makes up 1.3 percent of the food which is a very low percentage. The food contains 48.8 percent carbohydrates which is a high percentage
Summary
Judging from the guaranteed analysis, this food looks like it contains high amounts of Omega-3 and Omega-6 fatty acids, along with Vitamin E. It also has moderately high percentages of protein and fat. Although the ingredients rely heavily on grains, this food looks like it would, indeed, be helpful for dogs with itchy, flaky, dry, sensitive skin, as long as the dog wasn't allergic to corn or other grains. And the company provides a 30-day money-back guarantee.

Hill's Science Diet Adult Sensitive Skin Dog Food has received our 4 paw rating.
---
Buy your dog food with the convenience of Chewy.com and help support this website at the same time! If you click on any of the Chewy.com links or banners on this website, and then make a purchase (no matter what you buy), we receive a small commission on your entire purchase! How cool is that?! We would really appreciate your support and every penny earned through our Chewy commission helps to improve this site and add even more dog food reviews. 🙂
Click Here To Help Support Us By Shopping On Chewy.com
(We Are Incredibly Thankful For Your Support!)
---
Hill's Science Diet Adult Sensitive Skin To The Full Science Diet Dog Food Review
Read All Of Our Dog Food Reviews
---
---

Summary
Reviewer
Review Date
Reviewed Item
Science Diet Adult Sensitive Skin
Author Rating