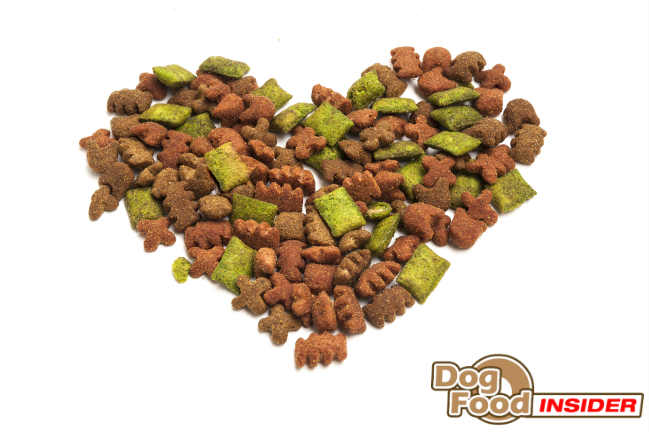 This post may contain affiliate links. We are compensated for referring customers to our affiliate partners.
Dog Food Insiders Rating
2 PAWS
You can find detailed information about Mars Inc., manufacturer of Pedigree dog food, in our full Pedigree dog food review. There you will also find information about how the food is made, recalls, the manufacturing process and their quality control measures.
The Pedigree brand includes dry and canned foods as well as treats and snacks. They also produce foods that are targeted for oral care, hip and joint health, weight control, and other health concerns. Like many other brands, they divide their foods by age – adult, puppy, and senior foods; and by the size of the dog – small, medium, large breed.
In the marketplace, Pedigree is an old, established brand and it is sold in grocery stores. It can be found nearly anywhere pet foods are sold. It is priced to fit lower budgets.
---
List of Ingredients Pedigree Healthy Weight Food for Dogs
Ground whole wheat, poultry by-product meal (source of glucosamine and chondroitin sulfate), brewers rice, dried plain beet pulp, animal fat (preserved with BHA and citric acid),natural flavor, potassium chloride, calcium carbonate, salt, monocalcium phosphate, vitamins (a-tocopherol acetate [source of vitamin E], choline chloride, l-ascorbyl-2-polyphosphate [source of vitamin C], vitamin A acetate, thiamine mononitrate [vitamin B1], biotin, D-calcium pantothenate, riboflavin supplement [vitamin B2], vitamin D3 supplement, vitamin B12 supplement), vegetable oil (source of linoleic acid), dried peas, minerals (zinc sulfate, zinc proteinate, copper sulfate, copper proteinate, manganese proteinate, potassium iodide), added FD&C colors (yellow 6, yellow 5, blue 2), dried carrots.
---
Top 5 Ingredients Breakdown
The first five ingredients in this food are: Ground whole wheat, poultry by-product meal (source of glucosamine and chondroitin sulfate), brewers rice, dried plain beet pulp, animal fat (preserved with BHAand citric acid).
This is a weight management dog food. Following the feeding guide for this food will give your dog approximately 20% less energy than Pedigree's Adult Complete Nutrition Small Crunchy Bites, by comparison. This food is corn-free and low in fat. It is relatively high in protein for a grocery store food.
The great concern with a low fat food, such as this one, is that it will leave your dog feeling hungry all the time. It's easy for humans to equate fat in food with weight gain and think it's something bad because that's often true with people. But dogs require fat for energy, to process some vitamins, to make the food taste better, and for good skin and coat, as well as other proper systemic functions. A proper amount of fat also helps your dog feel satisfied when he eats. If he doesn't have enough healthy fat in his food, he won't be satisfied with his food. That means he's going to pester you for more food. He might lose weight, but he won't be losing it in a good way.
When you're looking at weight control foods for dogs, it's important to look at the fat percentage as well as the other ingredients to see if your dog will be satisfied when he eats. Figured by dry matter basis, this food has about 8 percent fat. That's an exceedingly low fat percentage, though it does meet AAFCO standards for maintenance and for growth and reproduction. There are no specific AAFCO or National Research Council requirements for dog food for overweight dogs. Each pet food manufacturer makes up their own formulation. When choosing one of these foods for your dog be careful and pay particular attention to the ingredients and the guaranteed analysis.
Unlike other Pedigree kibbles, the first ingredient in this food is ground whole wheat. This is usually considered a filler ingredient and it's something like flour. However, it does have about 15 percent protein, 5 percent fat, and 80 percent carbohydrates. It's considered to be a good source of dietary fiber. Since it is the first ingredient in this food it is the predominant ingredient by weight before cooking so there's a lot of it in the food. If your dog has any problems with wheat or grains, in general, you will need to avoid this food. The ground whole wheat will likely make the food more filling.
---
Get A List Of All The Top Selling Healthy Weight Dog Food Blends
---
The second ingredient is poultry by-product meal (source of glucosamine and chondroitin sulfate). This means that the ingredient can be any kind of poultry. This is better than the generic "meat" or animal" but it is not as good as identifying the ingredient as chicken, for example. Poultry by-product meal means, according to AAFCO: "the ground, rendered, clean parts of the carcass of slaughtered poultry such as necks, feet, undeveloped eggs and intestines, exclusive of feathers, except in such amounts as might occur unavoidably in good processing practices." So, it does include chicken necks, feet, and other parts. If you're interested, you can read about the differences between poultry meal and poultry by-product meal here:http://www.hilarywatson.com/chicken.pdf Your dog probably won't mind eating these poultry parts but they are considered to be less desirable than the meaty parts of poultry you would eat yourself. Poultry by-product meal is a natural source of chondroitin and glucosamine but probably not in large amounts. If you would like your dog to have these supplements, it's a good idea to buy them separately and add them to his diet.
The third ingredient is brewers rice. AAFCO defines brewers rice as: "the dried extracted residue of rice resulting from the manufacture of wort (liquid portion of malted grain) or beer and may contain pulverized dried spent hops in an amount not to exceed 3 percent." It's the small milled fragments of rice kernels that have been separated from the bigger kernels of milled rice. And it's missing many of the nutrients found in whole ground rice and brown rice. It is used exclusively in pet foods. So, don't be misled into thinking that this is a nutritious form of rice for your dog. This is a carb filler and it's a less desirable ingredient. Since this is the third ingredient in the food, it means there is a lot of this filler in the food.
The fourth ingredient is dried plain beet pulp which we count as a plus. This is not to be confused with red beets. Nor is it a source of sugar in the food. Dried plain beet pulp is an an excellent source of dietary fiber. It draws liquid into the gut and then provides good laxative effects for the dog. Unfortunately, some consumers have confused the beet pulp in food with red beets or they think this ingredient is a filler, which it's not. It serves a useful purpose in many dog foods (read more here).
---
Get A List Of All The Top Selling Healthy Weight Dog Food Blends
---
The fifth ingredient is Animal Fat (Preserved with BHA and Citric Acid). Animal fat is a good ingredient in pet foods, though it's better when it is a named fat source, such as chicken fat. It's also good when it is preserved with a natural preservative such as citric acid. However, it's bad when fat is preserved with an artificial preservative like BHA. BHA is butylated hydroxyanisole and it has been linked to cancer and seizures. Fats in pet foods always have to be preserved with something. Otherwise the food would go rancid very quickly. But natural preservatives are preferable, even though they are weaker preservatives and do not preserve the food as long. If you are buying foods preserved with natural preservatives, be sure to look for foods with Sell By or Best Used By dates that are current.
The first five ingredients in this food indicate that it relies on plant protein (ground whole wheat), although it does contain meat protein in the form of poultry by-product meal. It also contains animal fat and an artificial preservative. These are considered average dog food ingredients. The ingredient of most concern here is the artificial preservative BHA. However, if your dog has any problems eating wheat or grain in general, you will need to avoid this food.
Additional Ingredients of Interest
There are some other ingredients to be concerned about in the remaining ingredients.
The food also contains"natural flavor." This is a deceptive term that often indicates the presence of MSG or monosodium glutamate used for flavoring. This isn't something that you generally want to add to your dog's food unless you have a particular object in mind, such as discouraging your dog from eating his own poop. MSG is sometimes recommended as a supplement to make your dog's waste taste bad to him so he won't try to eat it. Otherwise, when a food has "natural flavor," it usually has a lot of salt which isn't good for your dog.
The food also contains dried peas. Peas are a problematic ingredient in dog food for some dogs. Although they boost the protein percentage in food, containing about 24 percent protein, they are also a source of dietary fiber. Peas are not always easily digested by dogs and can result in increased waste and some gastrointestinal issues. They can also interfere with the absorption of vitamins and minerals in the food.
---
Alternative Options To This Dog Food
---
The food also contains added colors and dyes which are problematic. There is never any good reason for adding artificial colors to your dog's food. This is really only done to appeal to the consumer. Your dog doesn't care what the food looks like. Some of these added colors have been linked to cancer and other serious illnesses.
The food does have some good points that should be mentioned. It containschelated minerals – minerals which have been bonded to proteins so they are easier for your dog to digest. This is usually found in better quality foods because they are more expensive for the companies to purchase and add them.
We also note the presence of carrots in the food. Carrots are an excellent source of Thiamin, Niacin, Vitamin B6, Folate and Manganese, and a very good source of Dietary Fiber, Vitamin A, Vitamin C, Vitamin K and Potassium. However, carrots are listed as the last ingredient in the food so they probably don't add much in the way of nutrition. Many dog owners give their dogs raw carrots as treats or to help them feel full when they are giving them smaller food portions but in this case the carrots probably don't do much.
Guaranteed Analysis
Crude Protein Min ………. 25%
Crude Fat Min ………. 7%
Crude Fat Max ………. 9%
Crude Fiber Max ………. 4%
Moisture Max ………. 12%
Vitamin A Min ………. 10,000 Iu/kg
Vitamin E Min ………. 225 Iu/kg
Ascorbic Acid (Vit. C*) Min ………. 100 Mg/kg
Glucosamine* Min ………. 400 Mg/kg
Chondroitin* Min ………. 300 Mg/kg
*Not recognized as an essential nutrient by The AAFCO DogFood Nutrient Profiles
Calories Content
278 calories per serving (8 oz measuring cup)
Nutritional Adequacy Statement
Pedigree Healthy Weight is formulated to meet thenutritional levels established by the AAFCO Dog Food Nutrient Profiles foradult maintenance.
Dry Matter Basis
On a dry matter basis, this food contains approximately 28.4percent protein and 8 percent fat. This is a relatively high protein percentagefor a grocery store food but the fat percentage is very low, even for a weightcontrol food. You should watch for signs that your dog is hungry all the time.Also watch for signs that your dog's skin and coat might be suffering since fatis required for healthy skin and coat. Much of the protein appears to beplant-based from wheat so your dog may not digest it as well as meat protein.However, the food does contain meat protein in the form of poultry by-productmeal. Fiber makes up about 4.5 percent of the food which is typical of mostkibbles. The food contains an estimated 50 percent carbohydrates which is veryhigh.
Summary
This is a weight control dog food and it will probably beuseful for overweight adult dogs. However, it's probably not a good idea tofeed it to senior dogs, even if they are overweight, because of the very lowfat percentage. It is corn-free but if your dog is allergic to wheat you willneed to avoid it.
Pedigree Healthy Weight has received our 2 paw rating.
---
Buy your dog food with the convenience of Chewy.com and help support this website at the same time! If you click on any of the Chewy.com links or banners on this website, and then make a purchase (no matter what you buy), we receive a small commission on your entire purchase! How cool is that?! We would really appreciate your support and every penny earned through our Chewy commission helps to improve this site and add even more dog food reviews. 🙂
Click Here To Help Support Us By Shopping On Chewy.com
(We Are Incredibly Thankful For Your Support!)
---
From Pedigree Healthy Weight Dog Food Review To The Full Pedigree Dog Food Review
Read All Of Our Dog Food Reviews
---
---

Summary
Reviewer
Review Date
Reviewed Item
Pedigree Healthy Weight Dog Food
Author Rating