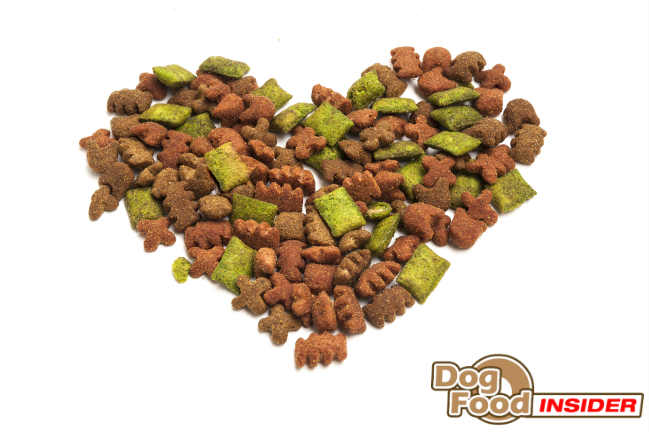 This post may contain affiliate links. We are compensated for referring customers to our affiliate partners.
Dog Food Insiders Rating
5 PAWS
---
Check Out These Reviews From Dog Owners About Instinct Grain Free Rabbit Meal Dog Food
---
You can find detailed information aboutNature's Variety in our main review of Nature's Variety Dog Food. There you will also find information about how the food is made, recalls, and their quality control measures.
Product Overview
Nature's Variety is an independent pet food company located in St. Louis, Missouri and Lincoln, Nebraska. They make Instinct (grain free), Instinct Raw, and Prairie (holistic) brand pet foods and treats. Their Instinct line of foods includes raw foods, freeze-dried, originals, and limited ingredient diets. Prairie foods come in kibble and canned. The company says they are passionate about providing natural and holistic nutrition for dogs and cats. Their foods are 100 percent free of corn, wheat, soy, chemical preservatives, and artificial colors and flavors. They produce raw frozen diets, dry kibbles, canned food, and treats. Some of their foods are organic.
---
Check Out These Reviews From Dog Owners About Instinct Grain Free Rabbit Meal Dog Food
---
---
Ingredients in Nature's Variety Instinct Grain Free Rabbit Meal
Rabbit Meal, Salmon Meal, Tapioca, Chicken Fat (preserved with Mixed Tocopherols and Citric Acid), Tomato Pomace,Pumpkinseeds, Sun-Cured Alfalfa Meal, Montmorillonite Clay, Natural Pork Flavor, Vitamins (Choline Chloride, Vitamin E Supplement, Ascorbic Acid, Biotin, Niacin Supplement, Vitamin A Acetate, d-Calcium Pantothenate, Riboflavin Supplement, Pyridoxine Hydrochloride, Thiamine Mononitrate, Vitamin B12 Supplement, Carotene, Vitamin D3 Supplement, Folic Acid), Potassium Chloride, Minerals (Zinc Proteinate, Iron Proteinate, Manganese Proteinate, Copper Proteinate, Sodium Selenite, Ethylenediamine Dihydriodide), Salt, Dried Kelp, Peas, Cranberries, Blueberries, Inulin, Rosemary Extract,Yeast Culture (Saccharomyces Cerevisiae), Dried Enterococcus faecium Fermentation Product, Dried Lactobacillus acidophilus Fermentation Product, Dried Aspergillus niger Fermentation Extract, Dried Trichoderma longibrachiatum Fermentation Extract, Dried Bacillus subtilis Fermentation Extract, Freeze Dried Rabbit, Freeze Dried Pork Liver, Freeze Dried Pork Heart, Freeze Dried Ground Rabbit Bone.
---
About Nature's Variety "Instinct" Blends
Nature's Variety produces a number of holistic foods for dogs and cats. They state that their Instinct line of foods are grain free and gluten-free. They also describe Instinct as highly digestible and nutritionally dense. They make a number of product claims about their kibble, including the fact that it has an exclusive freeze dried raw coating for great taste and nutrition.
The rabbit meal formula might be a good choice for someone whose dog has allergies to more traditional dog food meat proteins.
Main Ingredients Breakdown
The first ingredient in this food is rabbit meal. Since it's a meal that indicates that it's a concentrated form of rabbit protein with most of the moisture removed. Rabbit is a good source of Niacin, Iron, Phosphorus and Selenium, and a very good source of protein and Vitamin B12. It includes small amounts of many other vitamins and minerals.
The second ingredient issalmon meal. This is also a meal so it has had most of the moisture removed making it a concentrated source of protein. Salmon is an excellent source of omega-3 fatty acid. It's also a good source of Thiamin, Niacin, Vitamin B6 and Phosphorus, and a very good source of Vitamin B12 and Selenium.
The third ingredient is tapioca which probably provides most of the carbohydrates in the food. Tapioca supplies little nutrition but it's a gluten-free edible starch. There is only a low to moderate amount of carbs in this food but kibbles do require some starch in order to be processed and to hold a texture.
The fourth ingredient is Chicken Fat (preserved with Mixed Tocopherols and Citric Acid), a good named fat. Chicken fat is high in omega-6 fatty acid. Mixed tocopherols are a form of vitamin E and citric acid is vitamin C, both of which are natural preservatives.
---
Check Out These Reviews From Dog Owners About Instinct Grain Free Rabbit Meal Dog Food
---
Additional Ingredients of Interest
Other ingredients of note in the food include pumpkinseeds. It's unusual to find pumkinseeds in dog food, though some other companies add pumpkin; and many dog owners and breeders are aware of the benefits of giving dogs a spoon of pumpkin for tummy problems such as diarrhea or constipation. Pumpkinseeds are high in calories and a source of vitamin E. They also provide vitamins such as thiamin, riboflavin, niacin, pantothenic acid, vitamin B-6 (pyridoxine) and folates, as well as a number of minerals.
Alfalfa meal provides protein and calcium, as well as other vitamins and minerals, and it's a good source of dietary fiber.
Montmorillonite Clay seems to be an ingredient unique to Nature's Variety.Their glossary describes it as "a natural clay that we source from deposits in southern Utah that is approved by AAFCO for use as an anticaking processing aid. We have used this same natural source for many years."
The food also features "Natural Pork Flavor." Many dog foods add "Natural Flavor" to their foods. It's much better to see a flavor identified in some way. At least you have some idea of what the flavor is derived from.
Dried kelp is a source of natural organic trace minerals, including iodine. Peas can be added to dog food for a number of reasons. Coming near the end of the ingredient list they could be added for some extra fiber or for a boost of protein. Most dogs can eat them without any trouble, though some dogs have problems digesting them. It seems unlikely that they would pose a problem for dogs to digest coming this far down the ingredient list.
The food also contains blueberries and cranberries which are known for their antioxidant properties.
The food also contains a number of ingredients aimed at improving digestibility. Inulin is a prebiotic derived from chicory. It is used to encourage a healthy gut for better digestion. Yeast culture (not the same as the yeast used for baking in your kitchen) can be an active or inactive supplement that contains B vitamins and enzymes. It's believed to encourage the growth of beneficial bacteria in the intestine. The food also features a host of dried fermentation products to help your dog's digestion and other intestinal functions. Some of these fermentation products have been used for a long time with other animals but they have only recently been specialized for used in dogs. (You can't apply the same bacterial cultures to all animals or to people.)
Finally, the food also features Freeze Dried Rabbit, Freeze Dried Pork Liver,Freeze Dried Pork Heart, and Freeze Dried Ground Rabbit Bone. These ingredients are presumably the freeze dried raw coating the goes on the outside of the kibble for taste and nutrition.
Guaranteed Analysis
Crude Protein (min) ………. 35.0%
Crude Fat (min) ………. 22.0%
Crude Fiber (max) ………. 2.0%
Moisture (max) ………. 10.0%
Calcium (min) ………. 1.12%
Phosphorus (min) ………. 0.85%
Vitamin E (min) ………. 118.1 IU/kg
*Vitamin C (min) ………. 50 mg/kg
*Omega 6 Fatty Acids (min) ………. 3.85%
*Omega 3 Fatty Acids (min) ………. 1.29%
*Not recognized as an essential nutrient by the AAFCO Dog Food Nutrient Profiles.
Nutritional Statement:
Nature's Variety Instinct Rabbit Meal Formula for dogs is formulated to meet the nutritional levels established by the AAFCO Nutrient Profiles for all life stages.
Calorie Content: 482 per cup
Dry Matter Basis:
On a dry matter basis this food contains approximately 38.9 percent protein; 24.4 percent fat; 2.2 percent fiber; and about 23 percent carbohydrates. This is a moderately low amount of carbohydrates. The protein percentage is on the high side. The fat percentage is moderately high. The fiber percentage is a little low. Calories per cup are high so this is probably not a food you want to feed to a dog that is overweight unless you carefully monitor the food and feed small portions. It would be a good food to feed to very active dogs that burn a lot of calories such as hunting dogs, coursing dogs, and other dogs engaged in high energy activities. The calcium to phosphorous ratio looks good but food with this kind of high protein and high calories could cause large breed puppies to grow too fast.
Nature's Variety has this to say about feeding their food to large breed puppies (read more here):
"The needs of a large breed puppy are no different from a small breed puppy. All puppies need high quality protein, low carbohydrate, balanced calcium to phosphorus (CA:P), bioavailable vitamins and minerals, and beneficial omega fatty acids like DHA (found in fish and fish oil). What does vary with large breeds is the growth rate and how the growth is managed through diet and lifestyle. We recommend working closely with your veterinarian to develop a healthy plan for your large breed puppy's feeding and exercise regimen. We also recommend varying the flavor and format of food fed to puppies – it will help to prevent boredom and possibly prevent food intolerances from developing."
We do not believe this is not an adequate answer concerning large breed puppy nutrition. If you have a large breed puppy, a food specially formulated for their growth is recommended. Rapid growth of large breed puppies can lead to musculoskeletal and joint problems later in life such as arthritis, osteochondrosis dessicans, and hip dysplasia.
---
Check Current Price & Availability Online
---
Summary
Nature's Variety Instinct Rabbit Meal Formula looks like a very good dog food, especially if you are looking for a high protein, low to moderate carbohydrate diet for your dog. It appears to have very good ingredients. It is not recommended for large breed puppies. Feed them a food that is formulated for large breed puppies instead. Otherwise, this food looks good.
Natures Variety Instinct Rabbit Meal Formula has received our 5 paw rating.
---
Buy your dog food with the convenience of Chewy.com and help support this website at the same time! If you click on any of the Chewy.com links or banners on this website, and then make a purchase (no matter what you buy), we receive a small commission on your entire purchase! How cool is that?! We would really appreciate your support and every penny earned through our Chewy commission helps to improve this site and add even more dog food reviews. 🙂
Click Here To Help Support Us By Shopping On Chewy.com
(We Are Incredibly Thankful For Your Support!)
---
From Nature's Variety Rabbit Meal To The Full Nature's Variety Dog Food Review
Read All Of Our Dog Food Reviews
---
---

Summary
Reviewer
Review Date
Reviewed Item
Nature's Variety Instinct Grain Free Rabbit Meal Dog Food
Author Rating