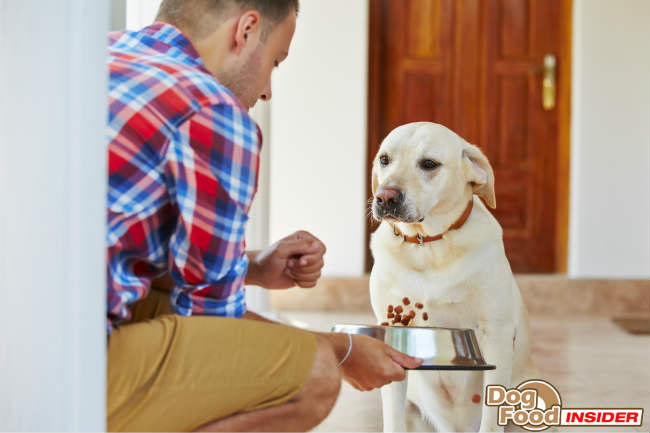 This post may contain affiliate links. We are compensated for referring customers to our affiliate partners.

You can find detailed information about Nature's Variety in our main review of Nature's Variety Dog Food. There you will also find information about how the food is made, recalls, and their quality control measures.
Product Overview
Nature's Variety is an independent pet food company located in St. Louis, Missouri and Lincoln, Nebraska. They make Instinct (grain free), Instinct Raw, and Prairie (holistic) brand pet foods and treats. Their Instinct line of foods includes raw foods, freeze-dried, originals, and limited ingredient diets. Prairie foods come in kibble and canned. The company says they are passionate about providing natural and holistic nutrition for dogs and cats. Their foods are 100 percent free of corn, wheat, soy, chemical preservatives, and artificial colors and flavors. They produce raw frozen diets, dry kibbles, canned food, and treats. Some of their foods are organic.
---

Find Out What Dog Owners Think Of This Food After Feeding It To Their Dogs
---
---
Ingredients in Nature's Variety Instinct Limited Ingredient Duck Formula Dog Food
Duck Meal, Tapioca, Peas, Canola Oil (preserved with Mixed Tocopherols and Citric Acid), Natural Flavor, Montmorillonite Clay, Coconut Oil, Potassium Chloride, Salt, Vitamins (Vitamin A Supplement, Vitamin D3 Supplement, Vitamin E Supplement, Niacin Supplement, d-Calcium Panthothenate, L-Ascorbyl-2-Polyphosphate, Thiamine Mononitrate, Pyridoxine Hydrochloride, Riboflavin Supplement, Folic Acid, Biotin, Vitamin B12 Supplement), Minerals (Zinc Proteinate, Iron Proteinate, Copper Proteinate, Manganese Proteinate, Ethylenediamine Dihydriodide, Sodium Selenite), Choline Chloride, Green Tea Extract, Rosemary Extract.
---
About Natures Variety Limited Ingredient Dog Food Blends
As you can tell by the name,Nature's Variety Instinct Limited Ingredient Duck Formula is a limited ingredient dog food. Some foods claim to be limited ingredient foods but include dozens of ingredients (other than vitamins and minerals). In this case the food actually is a limited ingredient dog food and it contains few ingredients. That's a good thing because dogs that need a limited ingredient diet usually do so because they have allergies or food intolerances and exposure to a multitude of ingredients can cause a reaction. The fewer ingredients, the better for dogs that require a limited ingredient diet.
If your dog has allergies, then duck is often a good protein choice and it's the only meat protein in this food. The food is also grain free and gluten-free which can be good for dogs with allergies. And, it does not contain chicken, beef, eggs, or dairy which are frequent triggers for allergies can food intolerances.
---

Check Online Price And Availability
---
Ingredients Breakdown
The top 5 ingredients included in this Nature's Variety Instinct Limited Ingredient Duck Meal Formula Dog Food are: Duck Meal, Tapioca, Peas, Canola Oil, and Natural Flavor. Below you will find a brief explanation of each of these ingredients:
Duck Meal – Unlike fresh meat, meat meals like duck meal have been cooked down to a moisture level around 10% – this means that they are a much more highly concentrated source of protein. Duck is a good source of omega-6 vitamin acids and it provides modest amounts of assorted vitamins and minerals.
Tapioca– Tapioca is a source of gluten-free carbohydrate. It is derived from the root of the cassava plant and it is highly digestible for dogs.
Peas – Peas have protein value between 23-27 percent, depending on the kind of peas used. They are a good source of Vitamin A, Niacin, Vitamin B6, Folate, Phosphorus and Copper, and a very good source of dietary fiber, Vitamin C, Vitamin K, Thiamin and Manganese.
Canola Oil – Canola oil is a major source of fat in the food. It's a named fat source though plant oils are usually not considered to be as good for your dog as animal or fish oils. Canola oil is still a good source of fat in dog food. It's made from a cultivar of the rapeseed plant. It contains omega-3 and omega-6 fatty acids as well as vitamin E and vitamin K. Mixed tocopherols are forms of vitamin E; citric acid is vitamin C. These are natural preservatives.
Natural Flavor – Natural flavor is simply a source of flavor and aroma in this dog food formula.
---

Find Out What Dog Owners Think Of This Food After Feeding It To Their Dogs
---
Ingredients Of Concern
The only ingredient in the food which might cause some dogs problems are the peas. Peas are being added to many dog foods today instead of corn. They have about 25-27 percent protein, along with fiber and carbohydrates. They have been added to other animal feeds in recent years and some animals have trouble digesting them thoroughly. There has not yet been much research about how well dogs digest them but some dogs have trouble with them and experience gastrointestinal issues. However, other dogs can eat food containing peas without problems. If your dog has any problems with food containing peas you should simply look for a food that doesn't have them as an ingredient. Don't assume that your dog is allergic to the food or that he has a food intolerance. It's probably an issue with the cellulose in the peas.
Additional Ingredients Of Interest
Aside from the top five ingredients, there are several other notable ingredients found in Nature's Variety Instinct Limited Ingredient Duck Meal Formula Dog Food. Some of these ingredients include: montmorillonite clay, coconut oil, vitamins, and chelated minerals. Montmorillonite clay is an ingredient you don't frequently seen in dog food. It is a natural clay that is used as an anti-caking processing aid in this dog food formula.
Coconut oil, according to the Nature's Variety ingredient glossary, comes from the kernel of the coconut palm tree and it is non-hydrogenated. This oil is rich in medium chain triglycerides (MCTs) like lauric acid, capric acid, and myristic acid. It also provides fatty acids that your dog needs for healthy skin and coat. The vitamins and minerals included in this formula are used to ensure balanced nutrition. The minerals are chelated minerals which means they have been chemically bound to a protein molecule, making them easier for your dog's body to absorb and digest.
Guaranteed Analysis
Crude Protein (min) ………. 10.0%
Crude Fat (min) ………. 7.5%
Crude Fiber (max) ………. 2.0%
Moisture (max) ………. 75.0%
Calcium (min) ………. 0.25%
Phosphorus (min) ………. 0.20%
Vitamin E (min) ………. 25 IU/kg
*Ascorbic Acid (Vitamin C) (min) ………. 30 mg/kg
*Omega 6 Fatty Acids (min) ………. 0.65%
*Omega 3 Fatty Acids (min) ………. 0.15%
*Not recognized as an essential nutrient by the AAFCO Dog Food Nutrient Profiles.
Nutritional Statement
Nature's Variety® Instinct® Limited Ingredient Diet Duck Formula for dogs is formulated to meet the nutritional levels established by the AAFCO Dog Food Nutrient Profiles for all life stages.
Calorie Content
325.6 calories per 8 ounce cup
538 per 13.2 oz can
224 per 5.5 oz can
Dry Matter Basis
With the dry matter basis figured, the food has an estimated 40 percent protein and 30 percent fat. It has 8 percent fiber and an estimated 10 percent carbohydrates. This makes the fat percentage somewhat high in relation to the protein percentage. Canine nutritionists usually recommend that the fat percentage be about half that of the protein. The fiber percentage is high. Carbohydrates are low. The calories are relatively high for a canned food. It's not unusual for a canned dog food to contain much more protein than carbohydrates and many canned foods are grain free, but this is an extremely low amount of carbs. You should know that when carbs are this low, and when there are no grains in the food, all of the added vitamins and minerals will be absorbed by your dog without any buffers. There are no phytates (found in grains) to bind any of the minerals. They go straight to your dog's systems. This might sound like a good thing but AAFCO's nutrient guidelines are based on foods that contain grains or enough phytates to bind some of the minerals in the food. When there are no phytates in the food or very low phytates, it means that there are more minerals than planned. When feeding dog foods with very low carbohydrate percentages you should watch your dog for signs related to any nutrient problems.
Summary
Nature's Variety® Instinct® Limited Ingredient Diet Duck Formula is a genuine limited ingredient dog food. If you have a dog with allergies or a food intolerance, he might be able to eat this food, based on the ingredients (as long as he isn't bothered by the peas). If your dog needs to gain weight, then you may like the high fat content. This is a high protein, high fat, low carb food – and the fiber is high, too. If that fits what you're looking for, the ingredients look good. But I wouldn't feed this food to most dogs as a normal diet unless they had a need for a limited ingredient diet. I don't feel the protein to fat to fiber percentages are good for most dogs and the very low carbohydrate percentage concerns me with regard to mineral absorption.

Natures Variety Instinct Limited Ingredient Diet Duck Formula has received our 4 paw rating.
This review was last updated on 1/20/2016
Summary
Reviewer
Review Date
Reviewed Item
Nature's Variety Instinct Limited Ingredient Duck Dog Food
Author Rating