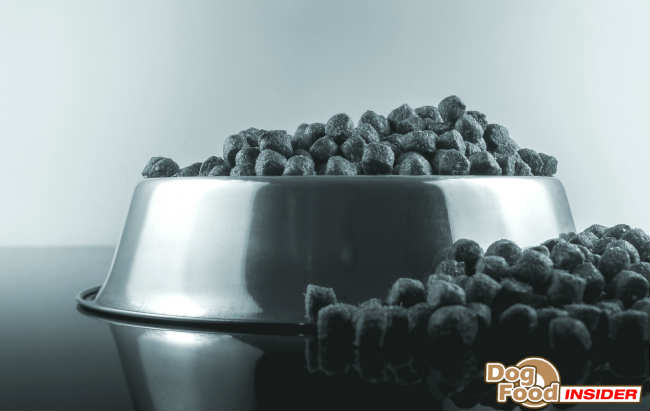 This post may contain affiliate links. We are compensated for referring customers to our affiliate partners.
You can find detailed information about Iams Dog Food, made by Procter & Gamble (P&G), in our main Iams Dog Food review. There you will also find information about how the food is made, recalls, and their quality control.
---
---
Iams produces a tremendous range of products for all ages, sizes of dogs, and dogs with different health needs. They emphasize nutrition in their foods but many people who look at ingredients will balk at the corn and other grains used in them. Some of their foods are popular grocery store brands and others can be found in pet stores or bought online. The veterinary formulas have to be purchased through veterinarians.
Eukanuba is the sister company of Iams. Ingredients in the two foods can differ and Eukanuba is generally sold online or in pet stores but the two companies rely on the same nutritional research.
Ingredients in Iams ProActive Health Adult Weight Control Large Breed Dog Food
Corn Meal, Chicken By-Product Meal (Natural source of Chondroitin Sulfate and Glucosamine), Ground Whole Grain Sorghum, Ground Whole Grain Barley, Chicken, Dried Beet Pulp, Chicken Flavor, Chicken Fat (preserved with mixed Tocopherols, a source of Vitamin E), Dried Egg Product, Brewers Dried Yeast, Potassium Chloride, Salt, Choline Chloride, Caramel, Flax Meal, Calcium Carbonate, DL-Methionine, Fructooligosaccharides, Minerals (Ferrous Sulfate, Zinc Oxide, Manganese Sulfate, Copper Sulfate, Manganous Oxide, Potassium Iodide, Cobalt Carbonate), Vitamins (Vitamin E Supplement, Ascorbic Acid, Vitamin A Acetate, Calcium Pantothenate, Biotin, Thiamine Mononitrate (source of vitamin B1), Vitamin B12 Supplement, Niacin, Riboflavin Supplement (source of vitamin B2), Inositol, Pyridoxine Hydrochloride (source of vitamin B6), Vitamin D3 Supplement, Folic Acid), L-Lysine Monohydrochloride, L-Tryptophan, L-Carnitine, Citric Acid, Rosemary Extract
Corn Meal, Chicken By-Product Meal (Natural source of Chondroitin Sulfate and Glucosamine), Ground Whole Grain Sorghum, Ground Whole Grain Barley and Chicken. According to these first five ingredients, the food contains a lot of grain. The first ingredient is obviously a form of corn. There is some good chicken protein. So, we find both animal and plant protein and a lot of carbohydrates. It's hard to tell from these first five ingredients if this is really a good weight loss dog food. We also note that Iams mentions the presence of chondroitin sulfate and glucosamine in the chicken by-product meal and these compounds do seem to help dogs with joint issues.
---
---
According to Iams…
Iams ProActive Health Weight Control is specially formulated with L-Carnitine to help return dogs ages 1+ and 50+ lbs to a healthier weight and keep them at their best.
Natural sources of Glucosamine support joint health. Protein sourced from chicken and egg helps build strong, firm muscles while antioxidants help maintain a strong immune system. Crunchy kibbles scrub your dog's teeth with every bite to help reduce plaque and tartar buildup that can lead to bad breath.
Vet recommended, this premium dog food is 100% complete and balanced, with no fillers or artificial preservatives. 100% Satisfaction Guaranteed.
Recommended For: Large breed adult dogs that are overweight or have lower activity levels – 1 year and older.
Feed this formula to dogs weighing 50 lbs. or less that are overweight or have lower activity levels.
We don't have any problem with these claims other than the fact that most veterinary dentists and research in this area shows that eating crunchy kibble isn't enough to reduce plaque and tartar on a dog's teeth. If you would like to reduce plaque and tartar on your dog's teeth you should brush them regularly; give your dog chews, especially dental chews; look for toys designed to massage your dog's gums and scrub his teeth; and talk to your vet. You can also look for dog foods that are specifically formulated to help reduce plaque and tartar. These foods generally have a seal of approval from the Veterinary Oral Health Council (VOHC) or a similar organization. Iams does have some foods which feature ingredients that are supposed to reduce tartar buildup but this food doesn't include those ingredients as far as we can tell (read more).
Otherwise, in general, the nutritional needs of large breed dogs are similar to those of other dogs with the caveat that it's even more important to keep a large breed dog from becoming overweight or obese. Many extra large and giant breed dogs have shorter lifespans than medium and small dog breeds. Some giant breeds are also prone to joint problems and musculoskeletal issues, i.e., hip dysplasia, arthritis, disc problems, and bone injuries. When these very large dogs carry extra weight, it can make them more likely to experience these joint and skeletal problems and even shorten their lives. Feeding a food that helps very large breed dogs control their weight is often advisable if they are prone to gaining too much weight.
These issues are different from the calcium/phosphorus issue that owners of large breed puppies have to be concerned about when they are choosing a puppy food. Once a large breed dog is an adult, he has the same calcium/phosphorus requirements as other dogs. It is important to feed growing large breed puppies a food that is appropriate for their future size so it will supply the correct amount and ratio of calcium and phosphorus for good adult bones.
As with other weight control dog foods for adult dogs, a weight control dog food for large breed dogs should have good protein, a reasonable amount of fat so the dog won't feel hungry again right away, and fewer carbohydrates. But, as with other weight control dog foods, it can be hard to find this kind of weight control dog food.
You can read below for other information about obesity in dogs and how to choose a weight control dog food.
---
---
Obesity in Dogs
We've said it before but it bears repeating. Nearly half of the dogs in the United States are overweight or obese and the situation is similar in Canada, the UK, and Australia. However, most owners don't even notice. Studies repeatedly find that even when veterinarians consider a dog to be overweight, most owners disagree.
The health facts are indisputable: leaner dogs live longer, healthier lives than dogs that are overweight. According to a 14-year study conducted by Purina, dogs that were fed 25 percent fewer calories lived nearly two years longer than the other dogs in the study who were allowed to eat as much as they wanted. The lean dogs had fewer visible signs of aging; and they needed to be treated for arthritis three full years later than their overweight counterparts. Overweight dogs commonly have health problems such as pancreatitis, diabetes, heart disease, disc problems, ruptured cruciate ligaments, joint problems such as hip dysplasia, complications during surgery, immune system problems, and even more problems with cancers.
You should be able to feel your dog's ribs but not see them. Your dog should have a "tuck up" behind his ribs. This is your dog's waist. If you can't feel your dog's ribs; if he waddles when he walks or gets out of breath after taking just a few steps; or if he looks like a table when viewed from above, your dog is overweight or obese. Unfortunately, we're so used to see fat dogs that most people think it's normal for a dog to look that way. They may even believe that someone who has a fit dog is keeping their dog too skinny. If you are in doubt about whether your dog is overweight, ask your vet. Or go to a dog show or other dog competition. You'll be able to see fit dogs there.
Weight Control Dog Foods
Since there are so many overweight and obese dogs today many companies make weight control dog foods. However, many of these foods are designed to try to fill your dog's appetite with carbohydrates. They tend to have lower amounts of protein and fat. This isn't the healthiest way for dogs to lose weight. Your dog gets the same number of calories from protein and from carbs but protein is better for him since it helps build lean muscle. Your dog is more likely to store the carbs as body fat. Companies often add the amino acid L-Carnitine to their foods because it helps burn fat and converts it to muscle, but your dog is better off having a higher percentage of protein instead of the carbs in the food. Dogs love protein. They thrive on it and it's more satisfying for them than carbs. Ideally, a good weight control dog food with be high in protein and lower in carbohydrates but it can be hard to find such foods.
As you might expect, you do need to limit the amount of fat your dog eats when you're trying to help him lose weight. Fat has more than twice the calories per unit or protein and carbohydrates. However, fat is very satisfying to your dog. If you give your dog a weight control dog food that is too low in fat your dog won't be satisfied. He will feel hungry continuously and that will make it harder for both of you to stick to his diet. He's bound to turn pleading eyes to you, try to steal food, and he might resort to eating poop and other inappropriate items. Instead of choosing a food with very low fat, look for one that has moderate fat so your dog won't feel so deprived. It's usually better to reduce portion size than to try to eliminate all the fat in the food.
---
---
Experts suggest feeding a kibble with a minimum of 25 percent protein (dry matter basis) in a weight loss dog food. When you have more protein in the food, you will almost certainly have a lower carbohydrate percentage. The fat percentage in a weight control dog food should be somewhere between 12 and 16 percent for most dogs. The fiber content of the food should not be more than 5 or 6 percent. Fiber is the indigestible part of carbohydrates. Adding more fiber to your dog's diet won't make your dog feel more satisfied when he eats and if there's a lot of fiber it can prevent good absorption of nutrients.
As mentioned, it can be hard to find weight loss dog foods that meet these suggestions since so many companies fill their foods with carbs to try to make the dog feel full when he eats. But your dog will be more likely to lose weight in a healthy way with this kind of food. And never underestimate the benefit of reducing the size of the portions you feed your dog. Sometimes you don't even have to feed a weight control dog food if you feed your dog smaller amounts. That's why you should always look at the calories in the food you're feeding.
Top 5 Ingredients Breakdown
The first ingredient is corn meal. It's usually not a good sign to see a grain as the first ingredient in a dog food. According to one source, there are 27 different corn or corn-derived products listed in the AAFCO manual that are all by-products of the various corn milling operations which make human food products. The company says that corn meal is used in their food as a high quality source of carbohydrates for energy (read more here). We are uncertain about the nutritional information for the corn meal used in dog food. Assuming that it is similar to corn meal sold for human cooking, then it has about 10 percent protein, 14 percent fat, and 76 carbohydrates. However, we're not sure if this is the same as the corn meal that's used in dog food. If you have additional information about corn meal in dog food, please let us know.
Chicken by-product meal is the second ingredient in this food and chicken is the fifth ingredient. Together, this indicates that the food probably contains a reasonable amount of chicken protein. Chicken is about 80 percent protein and it's a good source of Vitamin B6 and Phosphorus, and a very good source of Niacin and Selenium. Chicken is more desirable than chicken by-products. Obviously the chicken would appear lower in the list if the moisture were removed but the chicken by-product meal already has most of the moisture removed so it contains a lot of protein. AAFCO defines chicken by-product meal as: consists of the ground, rendered, clean parts of the carcass of slaughtered chicken, such as necks, feet, undeveloped eggs and intestines, exclusive of feathers, except in such amounts as might occur unavoidable in good processing practice." There are some good parts in chicken by-products and chicken meal supplies concentrated animal protein, but it's a mix and it's not the same high quality protein as chicken meat. However, it should be noted that it's definitely chicken. It's not by-products from some unknown animal. So, it might not be chicken breast but it's not so bad. Many people who feed raw like to give their dogs chicken necks and other parts that would be called "chicken by-products." As mentioned, it does contain natural sources of chondroitin sulfate and glucosamine which are good for joint problems – or for helping to prevent joint problems.
The third ingredient is ground whole grain sorghum. While sorghum is currently touted as having a lot of health benefits for humans, such as being gluten-free and helping with some health issues (which haven't been proven), it's usually associated with livestock feed. Sorghum is about 3 percent protein, 8 percent fat, and 89 percent carbohydrates. It contains some B vitamins and a few assorted minerals, but not large quantities of anything, although it does have a lot of omega-6 fatty acid. One species of sorghum is the source of sorghum molasses. Other kinds of sorghum are used for grass/fodder and grains for animals.
The fourth ingredient is Ground Whole Grain Barley. Barley is about 90 percent carbohydrates, 3 percent fat, and 7 percent protein. It's a good source of dietary fiber and Manganese. Whole grain barley is considered to be a good grain for regulating the body's blood sugar.
---
---
Finally, the fifth ingredient is chicken, which is covered with chicken by-product meal. It provides more meat protein in the food which is a plus.
Overall, these ingredients seem to meet the company's claims about the food. They provide protein from plants (especially corn) and from meat (chicken by-product meal and chicken). We like the fact that the food contains chicken as well as the chicken by-product meal. However, there are lots of carbs here. But we note the presence of the chondroitin sulfate and glucosamine for joints as promised by Iams.
Additional Ingredients of Interest
The food also contains chicken fat (preserved with mixed Tocopherols, a source of Vitamin E). Chicken fat is a good named fat which is good for dogs. Mixed tocopherols are a form of vitamin E and they act as natural preservatives to keep the fat from spoiling. Chicken fat is also a good source of Omega-6 fatty acid.
The food also contains dried beet pulp. There are some misconceptions about beet pulp, probably because of the name. Dried beet pulp is a natural, fermentable source of fiber. It is a wonderful addition to dog food to help move fecal matter along in the intestines, for one reason because it soaks up a lot of moisture and keeps things moving. It also acts as a pre-biotic to help good bacteria grow in the gut. Dried beet pulp is not a source of sugar for dogs. It does not make dogs hyper. The sugar has already been removed. "Despite being a byproduct of sugar beet processing, beet pulp itself is low in sugar and other non-structural carbohydrates, but high in energy and fiber. Among other nutrients, it contains 10 percent protein, 0.8 percent calcium and 0.5 percent phosphorus" (read more on Wikipedia)
The food also contains chicken flavor. This ingredient probably contains little nutritional value but it's better than "natural flavors" which are sometimes added to dog foods and which often feature monosodium glutamate (MSG).
Dried egg product is a good source of animal protein. Eggs offer high bioavailability for mammals like dogs.
The food also contains flax meal. Flax meal is a good source of omega-3 and omega-6 fatty acid but it's also a phytoestrogen and it can cause hormonal problems for dogs, especially for unspayed female dogs. If you are a dog breeder, you should be careful about feeding a food with heavy concentrations of this ingredient to a puppy.
Brewers dried yeast (not to be confused with brewers rice) is a yeast that is leftover from making beer (Saccharomyces cerevisiae) and it has a lot of nutritional uses. It provides biotin and B complex vitamins, as well as protein. It's considered to be very good for your dog's skin and coat, for example. Many people add brewers yeast to their dog's diet as a supplement to discourage fleas. It supports the nervous system and helps keep the skin, hair, eyes, and liver healthy. It's a source of the antioxidant nutrient selenium.
The food contains the natural sweetener Fructooligosaccharides which is 30 to 50 percent as sweet as other commercial sweeteners/syrups. It is usually derived from fruits and vegetables but it can come from grains and cereals. Dogs don't really need sugar added to their diet. However, fructooligosaccharides (FOS for short) has some other benefits. It's becoming popular as a prebiotic, for example, helping to increase gastrointestinal health. According to some sources, it may also help prevent yeast infections. According to some studies, FOS, together with inulin (which is not present in this particular dog food) promotes the absorption of calcium in animals (and in people). The microflora in the lower gut is able to ferment FOS which leads to a reduced pH. Since calcium is more soluble in acidic conditions, the intestines are better able to digest foods that contain calcium and transfer it to the bloodstream. FOS can also be considered a small dietary fiber with a low caloric value.
---
---
We also note the presence of inositol in the food. Inositol is a component of the B vitamin complex. It can be found in plant and animal tissue and it is necessary for the growth of yeasts and other fungi. It's especially important as a part of a phospholipid found in the brain.
The food also contains the compound L-carnitine. L-carnitine comes from the amino acids lysine and methionine. It helps the body turn fat into energy, among other things. L-Lysine is an essential amino acid. It's a necessary building block for all protein in the body. L-Lysine plays a major role in calcium absorption; building muscle protein; recovering from surgery or sports injuries; and the body's production of hormones, enzymes, and antibodies.
L-Tryptophan is an amino acid that acts as a building block for protein biosynthesis in the body. According to one source it can help relieve pain. It is not a very common ingredient in pet food though it is found in some dog foods. It can also be bought as a supplement for dogs that need calming. Tryptophan is the ingredient that people often associate with with drowsiness after eating turkey though this effect is actually exaggerated. Tryptophan is found in many foods, including chocolate, eggs, some cheeses, milk, other meats, and some fruits and vegetables.
Rosemary extract is an antioxidant that acts as a natural preservative. It's a common ingredient in many dog foods but if your dog is prone to seizures you will probably want to look for foods that do not contain rosemary since this ingredient has been linked to them. The food also contains citric acid which is used as an antioxidant and natural preservative.
The food also has caramel which can refer to coloring or flavor. In either case, it's not something that your dog needs. Finally, the food contains the essential fatty acid Methionine. Methionine is related to aging and there are ongoing studies about how it affects people and animals. However, it usually seems to be added to dog food because it can keep dog urine from leaving burned patches in the grass.
Most of these ingredients are found in other Iams ProHealth dog foods as well though the percentages may be different.
---
---
Guaranteed Analysis
Crude Protein, minimum ….. 22.00 %
Crude Fat, minimum ….. 9.00 %
Crude Fat, maximum ….. 11.50 %
Crude Fiber, maximum ….. 5.00 %
Moisture, maximum ….. 10.00 %
L-Carnitine, minimum ….. 40 mg/kg*
Omega-6 Fatty Acids, minimum ….. 1.75 %*
Omega-3 Fatty Acids, minimum ….. 0.12 %*
Glucosamine, minimum ….. 350 mg/kg*
Chondroitin Sulfate, minimum ….. 35 mg/kg
*Not recognized as an essential nutrient by the AAFCO Dog Food Nutrient Profiles
Calories Content
325.03 calories per 8 oz cup
Nutritional Adequacy Statement
Iams® ProActive Health™ Weight Control Large Breed Formula is formulated to meet the nutritional levels established by the AAFCO Dog Food Nutrient Profiles for Maintenance.
Dry Matter Basis
On a dry matter basis, this food contains 24.4 percent protein and 10 percent fat. Fiber makes up 5.6 percent of the food. The food contains 51.1 percent carbohydrates.
Summary
We don't like to see corn as the first ingredient in a dog food. However, we note that on a dry matter basis the protein, fat, and fiber percentages for the food come close to the minimum percentages recommended by experts for weight control dog foods. The carbohydrate percentage is very high but, overall we think this is an above average weight control dog food for large breed dogs.
Iams ProActive Health Adult Weight Control Large Breed Dog Food has received our 3 paw rating.
From Iams ProActive Health Adult Weight Control Large Breed To The Full Iams Dog Food Review
Read All Of Our Dog Food Reviews
Summary
Reviewer
Review Date
Reviewed Item
Kirkland Signature Puppy Formula Review
Author Rating