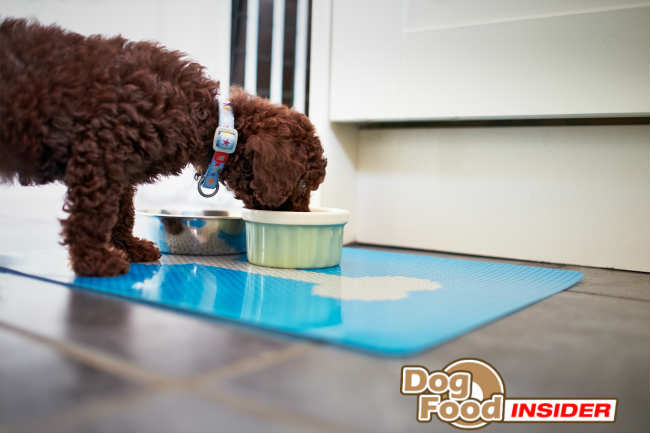 This post may contain affiliate links. We are compensated for referring customers to our affiliate partners.
Dog Food Insiders Rating
4 PAWS
You can find detailed information about Iams Dog Food, made by Procter & Gamble (P&G), in our main Iams Dog Food review. There you will also find information about how the food is made, recalls, and their quality control.
Iams produces a tremendous range of products for all ages, sizes of dogs, and dogs with different health needs. They emphasize nutrition in their foods but many people who look at ingredients will balk at the corn and other grains used in them. Some of their foods are popular grocery store brands and others can be found in pet stores or bought online. The veterinary formulas have to be purchased through veterinarians.
Eukanuba is the sister company of Iams. Ingredients in the two foods can differ and Eukanuba is generally sold online or in pet stores but the two companies rely on the same nutritional research.
---
Compare Our Review To These Reviews From Puppy Owners Currently Feeding This Food
---
---
Ingredients In Iams Premium Protection Puppy Food
Chicken, Chicken By-Product Meal, Corn Meal, Brewers Rice,Ground Whole Grain Sorghum, Chicken Fat (preserved with mixed Tocopherols, a source of Vitamin E), Dried Beet Pulp, Fish Meal (source of fish oil), Chicken Flavor, Dried Egg Product, Fish Oil (preserved with mixed Tocopherols, a source of Vitamin E), Brewers Dried Yeast, Potassium Chloride, Salt, Fructooligosaccharides, Choline Chloride, Minerals (Ferrous Sulfate, Zinc Oxide, Manganese Sulfate, Copper Sulfate, Manganous Oxide, Potassium Iodide, Cobalt Carbonate), Vitamin E Supplement, DL-Methionine, Calcium Carbonate, Vitamins (Ascorbic Acid, Vitamin A Acetate, Calcium Pantothenate, Biotin, Thiamine Mononitrate (source of vitamin B1), Vitamin B12 Supplement, Niacin, Riboflavin Supplement (source of vitamin B2), Inositol, Pyridoxine Hydrochloride (source of vitamin B6), Vitamin D3 Supplement, Folic Acid), Rosemary Extract
---
Top 5 Ingredients Breakdown
The first five ingredients in this food are: Chicken, Chicken By-Product Meal, Corn Meal,Brewers Rice and Ground Whole Grain Sorghum. These ingredients are found in many other Iams foods, though in a different order. We note that the first two ingredients are animal proteins – chicken and chicken by-product meal. It's always good to see meat protein in the first five ingredients of a dog food. We like chicken better than chicken by-product meal, but we're glad to see both of them. The other three ingredients in the top five – corn meal, brewers rice, and ground whole grain sorghum – provide a lot of carbohydrates in the food. That's not necessarily a bad thing depending on the animal protein in the food and the percentages used. You will read on many sites that dogs don't need carbs and, strictly speaking, that's true, but these ingredients do provide some benefits. Puppies and dogs don't thrive when they are fed only protein and fat. Even brewers rice can have its uses in a dog food, depending on how it's used. Overall, we like the protein we see here and we are open to finding out more about the rest of this food for puppies.
According to Iams…
The Most Advanced Iams Nutrition for a Lifetime of Love.
Iams is deeply committed to enhancing the well-being of dogs and cats for a lifetime of love with your pet. It is this commitment that inspired Iams nutritionists to work closely with veterinarians and create the ultimate Iams food for all your dog's nutritional needs. The result is Iams Premium Protection.
The nutrient-rich chicken by-product meal in Iams Premium Protection is an excellent source of protein. It naturally contains minerals and amino acids essential to dogs. Our products contain only highly refined chicken by-product meal, which has enhanced quality and nutritional value.
This Iams Premium Protection formula has PreBiotics that work inside the digestive tract to promote healthy digestion and strong defenses.
Iams Premium Protection Puppy Features:
Premium Protection is precisely formulated using only our highest-quality ingredients, further enhanced with:
Enriched with DHA for brain and vision development
Advanced 2-part fiber system, includes FOS and beet pulp, for healthy digestion
High levels of the antioxidant vitamin E for immune system development
Contains 22 nutrients that naturally occur in mother's milk
High protein levels for optimal growth and development
100% Complete and balanced for puppies with no added fillers or artificial colors
Premium Protection is Iams most advanced nutrition, built from Iams highest-quality ingredients. Guaranteed**.
*vs. Iams Proactive Health Smart Puppy
**Iams Dog Foods offer a 100% guarantee
Iams Premium Protection Features:
OmegaCOAT for healthier skin and coat
Advanced fiber system to promote healthy digestion
Iams Daily Dental Care™ to reduce tartar buildup by 50%**
*versus Iams Chunks
**as tested in Iams Chunks
Recommended For: Puppies 1-12 months; developed as our most advanced Iams nutrition ever.
We can substantiate most of the claims made by Iams in these statements. The food does contain prebiotics that are good for healthy digestion. It also has the protein described above (higher protein percentage than most other Iams' foods) as well as the antioxidants and fiber described.
Fish oil, present in this food, generally contains DHA (Docosahexaenoic Acid), a nutrient vital for optimal brain development, to help brain development in puppies.
One claim we would question is the statement that Iams uses no artificial preservatives since they do use fish meal that is preserved with ethoxyquin: http://www.iams.com/pet-health/dog-article/understanding-ethoxyquin Ethoxyquin doesn't have to be listed on the label because the fish meal is preserved with with this ingredient before it reaches the pet food plant so, technically, Iams doesn't add the ingredient. Many pet food companies use this "out" when discussing ethoxyquin or other ingredients. But this preservative is still in the food that your dog eats, though Iams defends its use.
We also question whether this puppy food really has Iams' Daily Dental Care formula. Iams states that all of their dry adult foods have this special coating on the food but this is a puppy food. We do not find the ingredient Sodium Hexametaphosphate which Iams uses for dental care in the ingredient list. If they are using another ingredient for this purpose, it is not stated.
The food also contains brewers rice which many people would call a "filler." However, the pet food industry refutes this claim. See the discussion following this ingredient below.
---
Compare Our Review To These Reviews From Puppy Owners Currently Feeding This Food
---
Chicken is the first ingredient in this food and chicken by-product meal is the second. Together this indicates that the food probably has a good percentage of meat protein. We always like to see meat protein as the first ingredient in a food. Chicken is about 80 percent protein and it's a good source of Vitamin B6 and Phosphorus, and a very good source of Niacin and Selenium. Chicken is more desirable than chicken by-products. Obviously the chicken would appear lower in the list if the moisture were removed but the chicken by-product meal already has most of the moisture removed so it contains a lot of protein. AAFCO defines chicken by-product meal as: consists of the ground, rendered, clean parts of the carcass of slaughtered chicken, such as necks, feet, undeveloped eggs and intestines, exclusive of feathers, except in such amounts as might occur unavoidable in good processing practice." There are some good parts in chicken by-products and chicken meal supplies concentrated animal protein, but it's a mix and it's not the same high quality protein as chicken meat. However, it should be noted that it's definitely chicken. It's not by-products from some unknown animal. So, it might not be chicken breast but it's not so bad. Many people who feed raw like to give their dogs chicken necks and other parts that would be called "chicken by-products." As mentioned, chicken by-product meal is a good source of chondroitin and glucosamine which are good for the joints.
The third ingredient is corn meal. According to one source, there are 27 different corn or corn-derived products listed in the AAFCO manual that are all by-products of the various corn milling operations which make human food products. The company says that corn meal is used in their food as a high quality source of carbohydrates for energy. http://www.iams.com/pet-health/dog-article/corn-ingredients-and-their-use-in-our-foods We are uncertain about the nutritional information for the corn meal used in dog food. Assuming that it is similar to corn meal sold for human cooking, then it has about 10 percent protein, 14 percent fat, and 76 carbohydrates. However, we're not sure if this is the same as the corn meal that's used in dog food. If you have additional information about corn meal in dog food, please let us know. If these figures are correct, the corn meal would provide a source of plant protein and a lot of carbs in the food.
The fourth ingredient in the food is brewers rice. Brewers rice should not be confused with brewers dried yeast or other ingredients. Brewers rice is a by-product of the rice milling industry. According to AAFCO it is "the small milled fragments of rice kernels that have been separated from the larger kernels of milled rice." Brewers rice is a processed rice product that is missing many of the nutrients contained in whole ground rice and brown rice thus reducing the quality. It is often used in pet foods. Brewer's rice is used as a source of fiber in dog foods. Used in moderation it can add structure and texture to pet food – but not nutrition. It is often considered to be a filler ingredient.
Note that the pet food industry defends the use of some filler ingredients, especially if a formula achieves its purpose and the company wants to add more bulk to the food without adding more calories or changing the formula.
PetfoodIndustry.com Sunday, December 08, 2013
"Fillers: Are they incorrectly vilified?" By Greg Aldrich, PhD
"Real utility to fillers: There is another little-discussed and not-well-understood need that a "filler" might play. If we adopt the working definition that a filler is used to fill or make full, then in the world of formulation, a filler could help us achieve a full measure-100%- once the targeted ingredients are included to meet the required nutrient parameters. What most people don't realize is that there is always room leftover in a commercial formula once we meet the animal's essential needs.
"In dry foods, we commonly use some type of carbohydrate (starch or fiber) and in canned foods it is often water that fills this gap. In either case it is important that we use some type of ingredient that does not disrupt the delicate nutrient balance we have worked hard to achieve."
The fifth ingredient is ground whole grain sorghum. While sorghum is currently touted as having a lot of health benefits for humans, such as being gluten-free and helping with some health issues (which haven't been proven), it's usually associated with livestock feed. Sorghum is about 3 percent protein, 8 percent fat, and 89 percent carbohydrates. It contains some B vitamins and a few assorted minerals, but not large quantities of anything, although it does have a lot of omega-6 fatty acid. One species of sorghum is the source of sorghum molasses. Other kinds of sorghum are used for grass/fodder and grains for animals.
Overall, these first five ingredients provide some good sources of meat protein with the chicken and chicken by-product meal, and some plant protein and a lot of carbs, especially from corn.
---
See Current Price & Availability Here
---
Additional Ingredients of Interest
The food also contains chicken fat (preserved with mixed Tocopherols, a source of Vitamin E). Chicken fat is a good named fat which is good for dogs. Mixed tocopherols are a form of vitamin E and they act as natural preservatives to keep the fat from spoiling. Chicken fat is also a good source of Omega-6 fatty acid.
The food also contains dried beet pulp. There are some misconceptions about beet pulp, probably because of the name. Dried beet pulp is a natural, fermentable source of fiber. It is a wonderful addition to dog food to help move fecal matter along in the intestines, for one reason because it soaks up a lot of moisture and keeps things moving. It also acts as a prebiotic to help good bacteria grow in the gut. Dried beet pulp is not a source of sugar for dogs. It does not make dogs hyper. The sugar has already been removed. "Despite being a byproduct of sugar beet processing, beet pulp itself is low in sugar and other non-structural carbohydrates, but high in energy and fiber. Among other nutrients, it contains 10 percent protein, 0.8 percent calcium and 0.5 percent phosphorus." http://en.wikipedia.org/wiki/Beet_pulp Dried beet pulp is part of the fiber content that Iams discusses for the food.
The fifth ingredient is Fish Meal (source of fish oil), a good source of protein and omega-3 fatty acid. Farther down the list we also find Fish Oil (preserved with mixed Tocopherols, a source of Vitamin E). Fish oil is also a good source of omega-3 fatty acid. Omega-3 is good for your dog's skin and coat, among other things. We do note that the fish meal that Iams uses contains ethoxyquin, an artificial preservative, so if this concerns you, you should avoid this food. Iams defends the use of ethoxyquin (read more here).
Another ingredient is chicken flavor. This ingredient probably contains little nutritional value but it's better than "natural flavors" which are sometimes added to dog foods and which often feature monosodium glutamate (MSG).
Dried egg product is a good source of animal protein. Eggs offer high bioavailability for mammals like dogs.
Brewers dried yeast (not to be confused with brewers rice) is a yeast that is leftover from making beer (Saccharomyces cerevisiae) and it has a lot of nutritional uses. It provides biotin and B complex vitamins, as well as protein. It's considered to be very good for your dog's skin and coat, for example. Many people add brewers yeast to their dog's diet as a supplement to discourage fleas. It supports the nervous system and helps keep the skin, hair, eyes, and liver healthy. It's a source of the antioxidant nutrient selenium.
The food contains the natural sweetener Fructooligosaccharides which is 30 to 50 percent as sweet as other commercial sweeteners/syrups. It is usually derived from fruits and vegetables but it can come from grains and cereals. Dogs don't really need sugar added to their diet. However, fructooligosaccharides (FOS for short) has some other benefits. It's becoming popular as a prebiotic, for example, helping to increase gastrointestinal health. According to some sources, it may also help prevent yeast infections. According to some studies, FOS, together with inulin (which is not present in this particular dog food) promotes the absorption of calcium in animals (and in people). The microflora in the lower gut is able to ferment FOS which leads to a reduced pH. Since calcium is more soluble in acidic conditions, the intestines are better able to digest foods that contain calcium and transfer it to the bloodstream. FOS can also be considered a small dietary fiber with a low caloric value.
The food also contains the essential fatty acid Methionine. Methionine is related to aging and there are ongoing studies about how it affects people and animals. However, it usually seems to be added to dog food because it can keep dog urine from leaving burned patches in the grass.
We also note the presence of inositol in the food. Inositol is a component of the B vitamin complex. It can be found in plant and animal tissue and it is necessary for the growth of yeasts and other fungi. It's especially important as a part of a phospholipid found in the brain.
Rosemary extract is an antioxidant that acts as a natural preservative. It's a common ingredient in many dog foods but if your dog is prone to seizures you will probably want to look for foods that do not contain rosemary since this ingredient has been linked to them.
Most of these ingredients are found in other Iams dog foods as well, though the percentages may be different. We do note the absence of caramel from this food which is typically found in many of Iams' other dog foods. Caramel is an artificial coloring/flavor so we think this is an improvement.
Guaranteed Analysis
Crude Protein, minimum ….. 30.00 %
Crude Fat, minimum ….. 20.00 %
Crude Fiber, maximum ….. 4.00 %
Moisture, maximum ….. 10.00 %
Vitamin E, minimum ….. 300 IU/kg
Docosahexaenoic Acid, minimum ….. 0.12 %*
Omega-6 Fatty Acids, minimum ….. 2.57 %*
Omega-3 Fatty Acids, minimum ….. 0.51 %*
*Not recognized as an essential nutrient by the AAFCO Dog Food Nutrient Profiles.
Calories Content
446.99 Kcal/cup calories per 8 oz cup
Nutritional Adequacy Statement
Iams Premium Protection Puppy is formulated to meet the nutritional levels established by the AAFCP Dog Food Nutrient Profiles for gestation, lactation, and growth.
Dry Matter Basis
On a dry matter basis, this food contains 33.3 percent protein and 22.2 percent fat. Fiber makes up 4.4 percent of the food. The food contains 31.1 percent carbohydrates.
Summary
We like the protein content and percentages in this puppy food, as well as the fat content for growing puppies. We also like many of the other ingredients. We do think that there are some misstatements about the contents of the food which is unusual for Iams. We have found most of their claims about their foods to be very truthful so we will assume that these errors are simply mistakes. Overall, this looks like a very good puppy food.
Iams Premium Protection Puppy Food Dog Food has received our 4 paw rating.
---
Buy your dog food with the convenience of Chewy.com and help support this website at the same time! If you click on any of the Chewy.com links or banners on this website, and then make a purchase (no matter what you buy), we receive a small commission on your entire purchase! How cool is that?! We would really appreciate your support and every penny earned through our Chewy commission helps to improve this site and add even more dog food reviews. 🙂
Click Here To Help Support Us By Shopping On Chewy.com
(We Are Incredibly Thankful For Your Support!)
---
From Iams Premium Protection Puppy Food To The Full Iams Dog Food Review
---
---

[ hana-code-insert ] 'A3' is not found
Summary
Reviewer
Review Date
Reviewed Item
Iams Premium Protection Puppy Food
Author Rating