This post may contain affiliate links. We are compensated for referring customers to our affiliate partners.
Sometimes dogs get bored of their food. Other times they'd had enough human food that kibble won't do it for them anymore. Other dogs simply have discerning tastes. Whatever the reason for your dog's picky food habits, there's a tasty dog food out there for them. We've put a few simple tips to encourage your dog to eat their, food as well as a list of the best tasting dog food flavors based on dog food reviews and taste tests so you can find the right brand for your picky eater.
---
Check Out This Dog Food Finder!
---
Check With Your Veterinarian First
If your dog has always had a healthy appetite and is suddenly uninterested in eating, it may be a sign of a much larger health problem. A decrease in appetite is often a sign of illness including cancer, infections, liver problems, and kidney failure. So the first thing you need to do is see your veterinarian for a full check up.
Other Reasons Your Dog May Not Want To Eat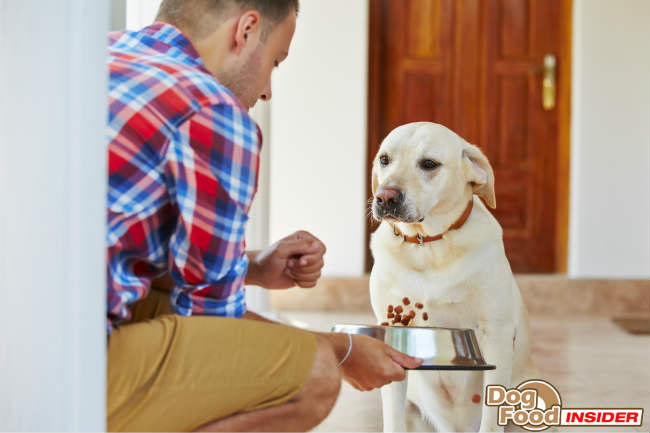 Dogs are creatures of routine so if there's been a sudden change like a move or travel, your dog may not be eating because of nerves. Your dog also may not be eating because of a recent vaccination. Usually this is just a temporary side effect, but if your dog doesn't start eating routinely again, you should check with your vet. Your dog also may be mad at you or in an uncomfortable situation, so check their surroundings and make sure that there haven't been any negative changes. Most commonly though, dogs may not be eating because they do not like their food. So it is important to find a delicious dog food they will love.
---
READ MORE: Reasons why your dog won't eat
---
Tips For Encouraging Your Dog To Eat
Since transitioning your dog to a new dog food can be a difficult undertaking, you might want to first try encouraging your dog to eat. Start by planning a feeding schedule, make sure they know that they will eat at a certain time everyday so they are more comfortable with their food. Then try to change your dog's bowl, it may simply be an issue of comfort. Many bowls are too high and make eating difficult. If you have other pets, try feeding your dog alone. Also make mealtime fun. Before feeding, take your dog for a walk, then when you get home play with them. After all this time together, mealtime will feel like a reward. Also, cut back on treats and people food. Your pet may be losing interest in their regular food because they are eating too many delicious treats.
The Four Most Delicious Dog Foods
If these tips do not work, it may be time to start transitioning your dog onto a new food. After doing some comparison research of dog food reviews, dog food analysis, and taste tests, we've found the four most delicious dog foods on the market. These foods are also healthy, natural, and nutritious. So not only will they help your picky eater find a flavor they love but they will be getting all their nutrients.
---
Taste of the Wild Pacific Stream is formulated with a delicious mix of salmon, ocean fish, sweet potatoes, potatoes, peas, and garbanzo beans. What makes this formula extra delicious is it is made with real smoked salmon. The food is also grain free so it has no flavorless fillers. Taste of the Wild Pacific Stream is highly digestible and also available as a wet food, so if your picky eater also has a sensitive stomach this is a great option.
Find Out What Dog Owners Have To Say About Taste Of The Wild Pacific Stream Dry Dog Food
---
Wellness CORE in original flavor is made with deboned turkey and chicken. What makes Wellness CORE so delicious is the complex, palate-pleasing mix of peas, potatoes, tomatoes, chicken liver, spinach, broccoli, carrots, parsley, apples, blueberries, kale, and sweet potatoes. It also has the added flavor boost of omega-rich salmon oil. Wellness CORE also does not contain any flavorless fillers or meat by-products, so it is a great product for picky eaters.
Check Out All The Wellness Core Flavors Here
---
Blue Buffalo Chicken and Brown Rice is a protein rich dry kibble made with deboned chicken and other wholesome ingredients including whole grains, apples, blackberries, blueberries, cranberries, pomegranate, and spinach. It also contains pumpkin, a surprising favorite flavor of even the pickiest dogs. Blue Buffalo Chicken and Brown Rice also contains no artificial colors, flavors, or preservatives which can negatively impact the flavor of the food. Blue Buffalo Chicken and Brown rice has a delicious, complex flavor that will appeal to the most discerning palate.
Blue Buffalo Chicken And Brown Rice Adult Dry Dog Food Reviews From Dog Owners
---
Natural Balance Wild Pursuit Chicken, Turkey Meal, and Quail is a delicious kibble made with flavorful fowl meats. It also contains dried peas, garbanzo beans, beets, cranberries, blueberries, apples, and zucchini. What makes Natural Balance Wild Pursuit such a flavorful kibble is the inclusion of freeze-dried raw food pieces made of chicken, turkey, and quail. Freeze-drying preserves the natural, raw flavors that resemble what your dog would enjoy in the wild. Natural Balance Wild Pursuit Chicken is especially good for dogs that are used to the delicious flavors of human food treats.
Get Reviews Of Natural Balance Wild Pursuit Chicken, Turkey Meal, And Quail
---
No matter what the cause of your dog's picky eating habits, there's a great food out there for them. With a little patience, some changes to their feeding schedules, and one of these great tasting dog foods, your dog will be eating like a champ in no time.
---
Check Out This Dog Food Finder!
---