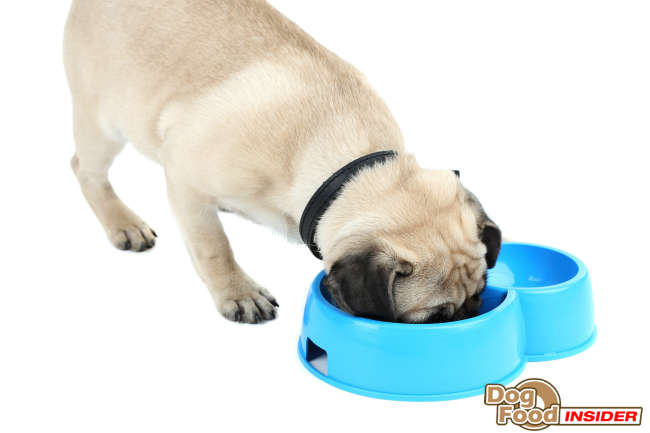 This post may contain affiliate links. We are compensated for referring customers to our affiliate partners.
Dog Food Insiders Rating
5 PAWS
In addition to this 4Health Performance dog food review, you can check our main review of 4Health dog food for even more information on how the food is made, recalls, company history, and their quality control history.
Product Overview
As with many private label brands, information about 4Health is harder to find than for national brands. However, Tractor Supply Company does provide ingredients and nutritional information on their company web site, so you can find out more about this food than many other private label foods. They advertise the food in their store circulars, too. Since it is a private label brand you can only buy it at Tractor Supply Company stores.
---
Ingredients in 4health Performance Dog Food
Chicken, chicken meal, ground rice, cracked pearled barley, chicken fat (preserved with mixed tocopherols), egg product, dried plain beet pulp, flaxseed, natural chicken flavor, fish meal, potassium chloride, salt, choline chloride, dried chicory root, glucosamine hydrochloride, chondroitin sulfate, vitamin E supplement, iron proteinate, zinc proteinate, yucca schidigera extract, copper proteinate, ferrous sulfate, zinc sulfate, copper sulfate, potassium iodide, thiamine mononitrate, manganese proteinate, manganous oxide, ascorbic acid, vitamin A supplement, biotin, niacin, calcium pantothenate, manganese sulfate, sodium selenite, pyridoxine hydrochloride (vitamin B6), vitamin B12 supplement, riboflavin, vitamin D supplement, folic acid.
---
Top 5 Ingredients Breakdown
Like other 4Health dog foods, 4Health Performance Formula for Adult dogs features two meat proteins at the top of the ingredient list – chicken and chicken meal in this case. This food contains 30 percent protein and has an estimated 30 percent carbohydrate content which is definitely low compared to most other dog foods today. It does contain grains, which we'll discuss in a moment, but it doesn't contain any corn, wheat, or soy. It compares very favorably to a food like Purina ProPlan Sport with the 30/20 protein/fat formulation.
The top 5 ingredients included in 4Health Performance Dog Food are: Chicken, Chicken Meal, Ground Rice, Cracked Pearled Barley and Chicken Fat. Below you will find a brief explanation of each of these ingredients:
Chicken = Chicken is a fresh meat that contains up to 80% water. Chicken is loaded with amino acids and it is highly digestible for dogs since it comes from an animal source. The Tractor Supply website also notes that fresh chicken helps to satisfy your dog's taste preferences.
Chicken Meal = Compared to chicken meal, chicken probably sounds better to most people but chicken meal has been dried and most of the moisture has been removed so it contains several times as much protein as chicken. Both of these ingredients are good sources of omega-6 fatty acid.
Ground Rice = Rice is the third ingredient so it does feature prominently in the food if you are concerned about arsenic in rice. Ground rice is a slightly confusing designation. When rice is ground it usually refers to whole ground brown rice and that is stated. However, this rice isn't stated to be brown rice. AAFCO defines ground brown rice as the entire product obtained by grinding the rice kernels after the hulls have been removed but it's unclear if the rice in this food is brown rice. If it's ground white rice, then the nutritional quality of the rice would be significantly less and would be something like a white rice flour. On the other hand, white rice is easier to digest and good for dogs with a sensitive stomach. "Ground rice" is a vague term here so it's hard to say.
Cracked Pearled Barley = This ingredient is a good source of dietary fiber and manganese, as well as omega-6 fatty acid. It takes a while to digest barley which keeps your dog feeling full and keeps his blood sugar levels at a steady level.
Chicken Fat = Chicken fat is a good named source of fat for your dog. It has some omega-3 fatty acid and it is packed full of omega-6. Mixed tocopherols, used as a preservative, are forms of vitamin E.
---
See How This Dog Food Compares With The Top Rated Dog Food On The Market
---
Additional Ingredients of Interest
Aside from the top five ingredients, there are several other notable ingredients found in 4Health Performance Dog Food. Some of these ingredients include: dried beet pulp, flaxseed, and fish meal. I've marked dried plain beet pulp not because it's a bad ingredient but because dog owners often question it or think there's something wrong with using it in a dog food. It is a by-product of the sugar beet industry and, once again, because it's a "by-product" people often assume it must be bad. That's not true. Most of the sugar has been removed from plain beet pulp leaving behind a good dietary fiber that acts like a prebiotic in your dog's gastrointestinal system. It encourages an environment that allows for the growth of beneficial bacteria. It's also an insoluble fiber so it's good for your dog's colon, drawing in moisture and helping to move things along in a healthy way. Dried plain beet pulp is used in lots of dog foods today and it's a good ingredient so don't let it put you off when you see it.
The food also contains flaxseed. Flaxseed is an excellent plant source of omega-3 fatty acid. People often debate plant sources of omega-3 fatty acid. They are considered less desirable than animal and fish sources of omega-3 for various reasons (palatability, digestion and absorption, among other things), but they're still good to have. Flaxseed is a good source of Magnesium, Phosphorus and Copper, and a very good source of Dietary Fiber, Thiamin and Manganese. However, if you are a dog breeder, you should be aware that flaxseed contains phytoestrogens which can interfere with reproduction in dogs. You can find various articles online that describe this issue as it affects dogs and humans. Be careful feeding dog food that contains flaxseed to your dogs if you are planning a litter in the near future or if your female dog is pregnant.
The food also contains fish meal. Fish meal is a great animal source of omega-3 fatty acid. Diamond, which makes 4Health for Tractor Supply, says that their fish meals are ethoxyquin-free. "Fish meal" is a vague term but fish in these cases can refer to menhaden. However, other kinds of fish can also be used.
4health Performance Dog Food also contains some supplements that are worth noting. Dried chicory root is considered a prebiotic "non-digestible food ingredients that stimulate the growth and/or activity of bacteria in the digestive system in ways claimed to be beneficial." They provide an environment that encourages the growth of good bacteria. The food also contains glucosamine and chondroitin which are typically added as joint supplements. Whether they actually help dogs when added to dog food is debatable. If your dog requires a joint supplement it's a good idea to talk to your veterinarian and buy your own supplements to add to your dog's diet so you know he will be getting an adequate amount.
This dog food formula also contains yucca schidigera extract which is added to many dog foods to reduce the odor associated with feces. The food also contains vitamin E supplement and ascorbic acid (vitamin C) which are usually used as natural preservatives. Finally, the food has vitamins and chelated ("proteinated") minerals added. Chelated minerals are bonded to amino acids so they are better absorbed when they are digested.
Guaranteed Analysis
Crude Protein ….. 30% (min.)
Crude Fat ….. 20% (min.)
Crude Fiber ….. 3% (max.)
Moisture ….. 10% (max.)
Zinc ….. 150 mg/kg (min.)
Selenium ….. 0.4 mg/kg (min.)
Vitamin E ….. 150 IU/kg (min.)
Omega-6 Fatty Acids* ….. 3.3% (min.)
Omega-3 Fatty Acids* ….. 0.5% (min.)
Glucosamine* ….. 600 mg/kg (min.)
Chondroitin Sulfate* ….. 200 mg/kg (min.)
Caloric Content 4,019 kcal/kg (376 kcal/cup): Calculated Metabolizable Energy
*Not recognized as an essential nutrient by the AAFCO dog food nutrient profile.
Tractor Supply Company states the following in their description of this and other 4Health foods: "4Health Performance Formula for Adult Dogs is specifically formulated to meet the nutritional needs of your highly active sporting or working dog " It also says that it is formulated for all life stages. However, this is NOT the same as an AAFCO statement of nutritional adequacy. AAFCO statements are present on the packaging of 4Health products but it would be nice if the company would make them available on the web site.
Summary
4Health Performance Formula for Adult Dogs looks like an excellent dog food. It has 30 percent protein and 20 percent fat, making it good for active dogs. The carbohydrate count comes out to an estimated 30 percent which is decidedly low for most dog foods today. The ingredients look good with good sources of meat protein, named animal fat, chelated minerals, good dietary fiber, and reasonable supplements added. Highly recommended.
---
See How This Dog Food Compares With The Top Rated Dog Food On The Market
---
4health performance dog food has received our 5 paw rating.
Last Updated On 12/20/2015
Summary
Reviewer
Review Date
Reviewed Item
4health Performance Dog Food
Author Rating